Mausoleum Ismail ata.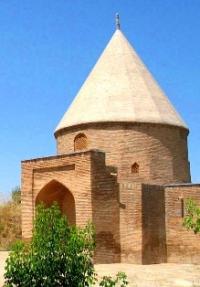 Tours over historical sights Turkestan province.
"We seldom realize, for example that our most private thoughts and emotions are not actually our own. For we think in terms of languages and images which we did not invent, but which were given to us by our society." 
Alan Watts.
Architectural monuments of Southern Kazakhstan.
The Ismail ata mausoleum, a monumental structure, is part of the Ismail ata architectural and cult complex, located in an old cemetery in the northern part of the complex, 16 meters north of the Jabrayil ata mausoleum, in the central part of the Turbat village, 158 meters north of the highway in the Kazygurt district of the Turkestan region.
Mazar Ismail ata dates back to the XIIIth - XIXth centuries and is a monument of medieval architecture. It is a portal-domed building with a hipped roof. In the construction of the mazar, square-shaped burnt bricks with ganch mortar were used.
The construction is traditional for the monumental architecture of Central Asia: the dome, which covers the central room, rests on four arches made in the plane of the walls, the corner spaces are covered with girder sails.
Fragments of gypsum plasters with traces of plant, geometric and epigraphic ornaments were found on the walls of the interior. In 2010, restoration work began, and local residents took part in this. 14,000,000 tenge were spent.
With this money, religious buildings were restored, to build a gibadatkhana five meters high, 14 meters wide and 40 meters long.
Geographic coordinates of the Ismail ata mausoleum: N41 ° 45'32.01 "E69 ° 35'28.43"
Authority:
The guidebook across Kazakhstan. "Monuments of history and culture of Kazakhstan. Shymkent region. Volume 1. Alma-Ata. 1994. G.M. Kamalova.
Photos