Mausoleum Koshkar ata.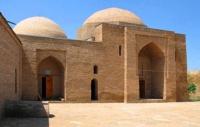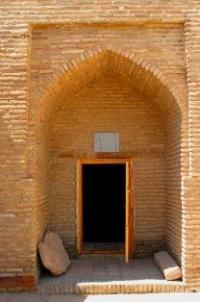 Take Tours in Shymkent.
"Until you taste the nectar of love,
Until you put on the clothes of lovers
Until you gather in one faith and worship,
You will not be able to see the divine face of the Creator"
Hikmet Khoja Ahmed Yasavi.
Book Tours Taraz.
The Koshkar ata mausoleum, a monumental structure, is a part of the Ismail ata architectural and cult complex, located in the ancient cemetery between the Chillyakhana and the mosque, in the central part of the Turbat village, 140 meters north of the highway in the Kazygurt district of the Turkestan region.
Koshkar ata mazar and chillyakhana and other buildings form the western part of the monument. It was erected in honor of the legendary Kazakh Sufi Koshkar ata, who is considered a saint. Mazar Koshkar ata is located between chillyakhana and the mosque.
A small portal-domed one-chamber building with a low apse, in which there are tombstones with 3 niches-apses, arranged on three sides of the central hall, in which there are several tombstones. The sails of the dome are cellular, stacked with double bricks, cantilevered above each other.
Made of burnt square bricks. In the interior of the hall - on the walls and under the dome drum - fragments of wall paintings of an ornamental character have been preserved. The building is used for funeral rituals.
A characteristic detail of the monument is the arrangement of cellular sails in the form of double bricks protruding cantilever one above the other. In connection with the renovation work carried out later, which united the chillyakhana and the Koshkar ata mausoleum into a single architectural composition, the monument from the side of the main facade is hidden by a wall.
Included in the list of monuments of history and culture of Kazakhstan of republican significance. During the restructuring of a part of the complex, which was carried out much later than the construction of both buildings, the chillyahan and the mausoleum became a single architectural composition.
It has now been restored.
Geographic coordinates of the Koshkar ata mausoleum: N41 ° 45'31.40 "E69 ° 35'27.93"
Authority:
D. A. Taleev. "Code of monuments of the South Kazakhstan region." Architectural and archaeological heritage of the South Kazakhstan region. In the framework of the regional program "Cultural Heritage". http://www.farsah.kz