Mausoleum of Raimbek Batyr.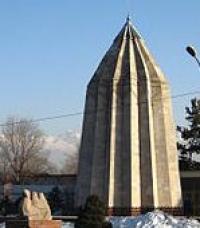 List of sights of Almaty.
"It is not necessary to look at where a person was born, but what his manners are, not in what land, but by what principles he decided to live his life"
Antoine de Saint-Exupery.
A trip from Kostanay to Almaty.
The mausoleum of Raimbek batyr was built on the avenue of the same name, opened in 2005 at the burial place of the batyr. Raiymbek-batyr (1705 - the date of death is unknown). Rayymbek - Kazakh batyr. His grandfather - Khankeldi-batyr - in 1733 together with famous people of the Elder Zhuz Kodar bi, Tole bi, Satay-batyr, Bolek-batyr sent an ambassador to the Russian Tsarina Anna Ioannovna with a proposal to agree to the entry of the Elder Zhuz under the patronage of Russia (1730 - 1740).
Raiymbek, who at the age of 17 showed unprecedented heroism in the fight against the Dzungarian troops, was honored - he became a batyr. Between the ridges of Toraigyr and Soget there is a plain Oyrantobe, where he fought with the Dzungars.
Not far from the Aiyrly pass of the Toraigyr mountains there is a spring Rayymbek. Together with Raiymbek, batyrs Satay, Bolek, Kyzylborik, Koikel-di, Konakeldi, Kistik, Malay, Yesen, Bayseit and others participated in the battles against the Dzungars.
The name Rayymbek-batyr turned into a symbol and honor of the Albanian clan. Its mausoleum is located in the city of Almaty.
Authority:
https://infourok.ru/otey-batir-istoriya-kazahstana-2986341.html