Mazorsky Glacier.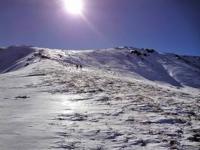 Coach trip in Tajikistan.
"Night. Beyond the distant pass
He got the bloody eye of Mars
And watch the rocks anxiously
Into the silence of the ice masses"
Yuri Vizbor. September 1954.
Packaged tour in Tajikistan.
The Mazorsky Glacier is located in the Sangvor region of Tajikistan, at the head of the Ob-Mazar River, a large left tributary of the Obihingou. It flows from the northern slope of the Darvaz Range. The length of the glacier is 16.8 kilometers, the area of ​​the Mazorsky glacier is 23.0 square kilometers, originating from the firn plateau in the crest of the Darvaz Range, common with the Sed glacier.
The glacier is located in a narrow deep valley, elongated along the Mazor Range. Most of the surface of the tongue is covered with moraine. The glacier ends at an altitude of 3200 meters above sea level, wedging itself into the zone of woody and shrubby vegetation.
Several large complex valley glaciers lie in the upper reaches of the Bochud River - the Burs, Sytargi and Zordi-Birauso glaciers. They have extensive multi-chamber nutrition areas and wide moraine parts with hilly karst relief at the ends of the glacier.
58 glaciers with an area of ​​97.4 square kilometers are located on the northeastern slope of the Mazar Range (average altitude 5500 meters above sea level). Of these, the largest is the Bartrut Right glacier. It has an extensive high elevated feeding area and a wide portion.
Before entering the extension of the valley, the glacier is torn apart by a high rocky step, below which a new glacier is formed, about 2 kilometers long, almost completely covered by moraine. The height of the end of the glacier is 3200 meters above sea level.
Glacier observations began in 1958. From 1958 to 1976, the glacier retreated 210 meters, an average of 10 meters per year, freeing 0.11 kilometers of ice from ice. From 1975 to 1990, he retreated another 261 meters at a speed of 16.3 meters per year.
From 1987 to 1990, he retreated another 40 meters at a speed of 13 meters per year, freeing up 0.019 square kilometers.
Authority:
"Glaciers." L.D. Dolgushin, G.B. Osipova. Series "Nature of the world." Moscow, the publishing house "Thought". 1989.
Photos by
Alexander Petrov.