Monument Khudjandi in park.
Excursion tours over Khudjand.
In 1996 in Tajikistan solemnly marked the 675 anniversary from the date of a birth of the Tadjik-Persian poet of XIV century, the thinker and traveller Khodzhi Kamol Khudzhandi (a pseudonym «Khudjandi», meaning Khudjanskiy, the poet is the native of the city of Khojend).
 To anniversary celebrations capital reconstruction of the park carrying a name of the well-known poet, and located in a picturesque place at coast of Syr-Darya, near to well-known Khudjand fortresses has been completed, there, where the poet was born.
At reconstruction of park the remarkable monument to the compatriot - Khodzhi Kamol Khudzhandi here has been established, the symbolical mausoleum-tomb of the poet has been constructed.
On seven-meter on height a monument the poet is represented barefooted, with grief peering afar, there, where there was its native house. That he barefooted, symbolizes love of the poet to wanderings.
 The Poet has spent the most part of the life far from the native ground, in the Iranian city of Tabriz where created the well-known gazelles (in the Persian language). The most part of its verses expresses melancholy on the native house and are filled by bitterness of parting with the Native land.
The poet has died and has been buried as far from the house - in Tabriz. In Tajikistan Khodzhi Kamol Khudzhandi consider as the classik and name «The Nightingale of Khudjand". As the tribute of memory to the great compatriot also has been constructed the symbolical mausoleum in Tajikistan where the ground from a place where he is buried has been brought from Iran.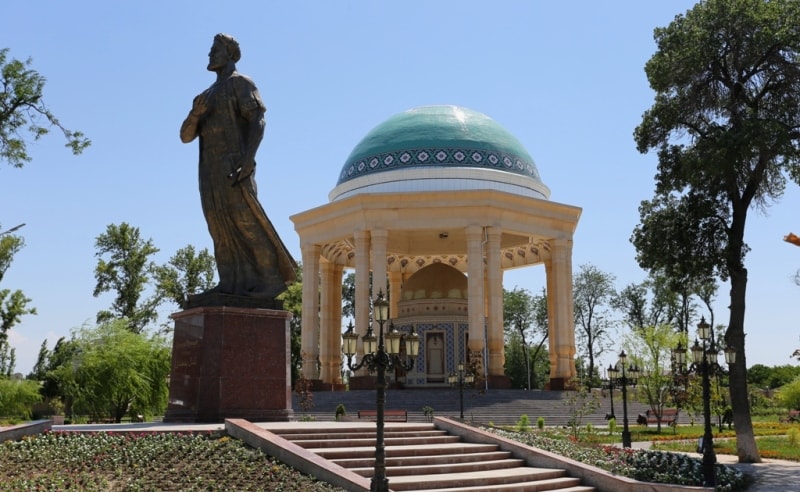 Authorship:
http://tourasiana.com
Photos
Alexander Petrov.