Moussa Tura Madrasah in Khiva.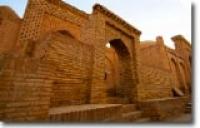 The list of monuments of Khiva.
"In the Book of Judgments, not a word can be changed.
    Those who suffer forever cannot be excused
    You can drink your bile until the end of life:
    Life can not be shortened and can not be extended "
Omar Khayyam.
Package tour in Khiva.
The Madrasah of Mh is located in the downtown of Ichan - Qala, just behind the madrassah Yusuf Yasaulbashi. It was built in 1841 Muossa Tura, son Rakhmankuli Inak who was the grandsonuhammad Rahim Khan I and nephew of Alla Quli Khan. 
To the names of the descendants of the Khan's dynasty the word Tura would be added. In 1855 Moussa Tura was killed in a battle with the Turkmen yomuds and was buried in that madrasah.
The Madrasah has shape of a trapezium when viewed from above.
The Madrasah consists of two courtyards, a two-domed lobby, hujras, a mosques and darskhana.
The building has been renovated and is currently being  used as a shop of products of craftsmen.
Authority:
http://welcomeuzbekistan.uz