Nature of Southern Kazakhstan.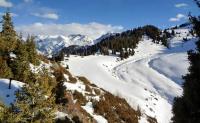 Nature of Southern Kazakhstan.
"Nature is an infinite sphere whose center is everywhere"
Ralph Waldo Emerson.
Geographical location of Kazakhstan.
Kazakhstan is a huge outdoor adventure playground, waiting to be discovered by those' who live here, as much as by people from beyond its borders. There is wonderful nature, extra special because it is little known and unspoiled.
It is a land of contrasts, with high mountains, deep lakes, miles of steppe which bursts into colour for a few weeks in the spring time. Only 16 million people live in this vast country, the ninth biggest in the world, so it is not difficult to get away from the crowds.
Each region has its own appeal, but southern Kazakhstan, the area bordering Kyrgyzstan and Uzbekistan, deserves mention because, in this land of slow travel and great distances, it can be reached by overnight train from Almaty, so making a weekend visit possible if you are pushed for time.
Of course, there is plenty to do if you are fortunate enough to be in a position to take a longer break. Southern Kazakhstan is distinctive because it is the pad of Kazakhstan through which one of the Silk Roads went.
Geographical location of South Kazakhstan.
Southern Kazakhstan is situated in the head of Central Asia, deep in the Eurasian continent. It orders upon Uzbekistan in the southwest, and Kyrgyzstan  in the southeast. The total area is 117.3 thousand. - square km.
The southernmost point - 40'56" NL corresponds to latitudes of the Transcaucasis and Mediterranean countries of Southern Europe (the latitude of Baku, Istanbul, and Madrid). The distance from nosh to south is 600 km.
A variety of landscapes are found in the region: Betpak-Dala Desert in the north and Myrzashole Steppe in the south, picturesque mountain spurs in the northwest and southeast. The highest point is Sairamsky peak with its total height of 4,238m.
The largest rivers running across the region are Syrdarya and Shu.
Enjoy nature of South Kazakhstan.
Southern Kazakhstan has something for everyone. There are hills for walking, with routes suitable for all abilities. The oldest nature reserve in Central Asia, Aksu Zhabagly, is located here. It is about a 3 hour car journey from Turkestan.
Well trained guides will show you around and almost certainly help you spot species you would have missed yourself. You may not encounter a snow leopard for they are shy and retiring creatures, but being near their home is exciting.
Bear tracks are sometimes seen, perhaps preferable to bumping into the creature itself. Altogether 52 species of mammal have been recorded in the park among those seen are the lynx, argali, Menzbier's marmot and ibex.
If flowers are your interest, 1,279 species of plant have been found. Among the endangered species, those listed in the Red Book, are the Sieverse Apple Tree. The Greig's tulip, ancestor of the familiar flower in the Netherlands, was first grown here. For bird lovers, 267 types have been seen here.
Among the rare and endangered species that have been found here are golden eagle, Eurasian eagle-owl and Himalayan griffon vulture. Horse riding is another option. Kazakhs are skilled horsemen, and their animals are used to being ridden by experienced and robust people.
There are beautiful gorges to walk into, and lakes to sit by, where birds, butterflies and flowers can all be enjoyed. Lovely, and less visited, are the villages and natural attractions in the Ugam Range of mountains, about a forty minute drive from Shymkent.
Rare species can be found here too, and hiking and riding. Your hosts will give you a picture of rural Kazakh life. The water here is especially good, and there are mountain streams where it is clean and pure. Alternatively, buy a bottle from the bottling plant.
After a busy day of hiking, riding or monument visiting, relax with a dhombra (the two stringed national instrument) concert or local dancing in national costume (watching rather than participating).
Authority:
N.A. Gvozdetsky, N.I. Mikhailov. "Physical geography of the USSR. Asian part. Third edition, amended and supplemented. Moscow "Thought" 1978. http://tapemark.narod.ru/geograf/1_5_5.html
Photo
Alexander Petrov.