Obihingou River.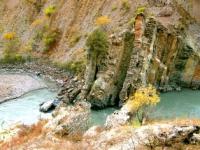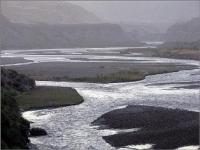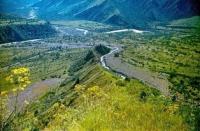 Trip to Tajikistan.
"It is not the strongest of the species that survive, nor the most intelligent, but the one most responsive to change"
Charles Darwin.
On the Pamir Mountains Walk.
The Obihingou River flows through the Tavildara and Nurabad districts of the Rasht region in Tajikistan. Obihingou is a left tributary of the Vakhsh River, which is called Surkhob before the confluence of Obihingou.
The Obihingou River is formed at an altitude of 2582 meters above sea level at the confluence of two sources - Garmo (left) and Kirgizob (right). At a distance of 1.5 kilometers from the source, there is a large left tributary, Bohud.
The river flows from east to west. The estuary is located 8 kilometers east of Darband (Komsomolabad). The length of the river (with the source of the Garmo) is 205 km, the basin area is 6660 square kilometers.
From the north, the Obihingou basin is bounded by the Peter I ridge, and from the south by the Darvaz ridge from the Panj and Vancha valleys. The flow regime in the upper reaches of the river is characterized by a comparatively gradual increase in water discharge during the spring-summer flood.
The maximum water discharge is usually observed in July. Average annual turbidity in the lower reaches of the river exceeds 4000 grams per cubic meter. The Vakhe area has a semantic connection with the hydronym Vakhsh (the goddess of irrigation and fertility among the inhabitants of Ancient Bactria): Vakhei Bolo (Upper Vakhe) - the territory of the upper course of the Obikhingou river, Vakhei Poyon (Lower Vakhe) - the territory of the lower course of the Obikhingou river. 
The average water consumption in July near the Tavil-Dara village is 472 cubic meters per second. The Obihingou River waters are very turbid. The river is available for rafting and catamarans of the highest category of difficulty from August to the end of October from the confluence with the rivers Kirgizob and Garmo.
The length of the rafting section is 180 kilometers, the rafting is 14 - 16 days. The most difficult sections: Summit canyon (below the Arzyng village) - a continuous chain of rapids and an abundance of stones in the channel; The upper canyon (below the mouth of the Obimazar river) - the Lyangarsky and Alisurkhonsky rapids, requiring exploration; rapids near the villages of Gurkham, Yozgand and Gurdov; The lower canyon (below the village of Dashtigurg) with the "Super" rapids, the most difficult to pass.