Peak of Russia on Pamir.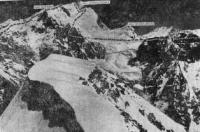 The tops of the Pamir.
"And if these mountains had eyes, they would wake to find two strangers in their fences, standing in admiration as a breathing red pours its tinge upon earth's shore. These mountains, which have seen untold sunrises, long to thunder praise but stand reverent, silent so that man's weak praise should be
Donald Miller. «Through Painted Deserts: Light, God, and Beauty on the Open Road».
Climbing the peak of Russia in Pamir mountains.
The peak of Russia, 6882 meters high above sea level, is located in close proximity to the peak of Communism, adjacent to its southern ridge from the southeast through the vast snowy plateau of Pravda. This grandiose massif, whose dimensions are in harmony with its majestic name of my Great Power, breaks off to the Belyaev glacier with a steep rocky Western wall, standing on a kilometer-long ice pedestal, complementing the picture of the greatness of the steep South-Western wall of the peak of Communism.
The western wall of the peak of Russia was crossed once in 1977 by the team of Sergei Efimov (6A), where at that time no one even looked. The southeastern side of the peak, facing the Bivuachny glacier, has three routes.
The first in 1972, a team of 6 people led by Oleg Abalakov passed along the southeast ridge. This is the simplest of the three routes, although its complexity is rated 5B. In 1979, the team of Yervand Ilyinsky walked along the bastion of the southeast wall (the difference of the bastion itself is 1150 meters, the entire route is 2050 meters.
The main difficulty of the route is the steep cliffs of the bastion (75 degrees), which are located at an altitude of 5500 to 6700 meters above sea level. What the team of O. Abalakov could not do was done by the group of Vadim Nevorotin in 1982, having passed the 1000 meter southeast wall.
From the east, the peak of Russia is a huge snow dome, climbing from the Bivuachny glacier is not difficult and can even be done on skis, followed by a dizzying descent.
The Truth Plateau is located between the peak of Russia and the peak of Communism from the east.
Peak Russia on Pamir mountains (6882 m). Normal route 5A.
Peak Russia, seen from the summit of peak Communism with Pravda plateau. Peak Russia is situated near to Communism peak, joining to him by the vast high plateau "Pravda". Peak Moscow stands also near to Communism peak, but in the opposite side. In the base camp on the glacier Fortambek the North face of Moscow peak rising up in all its grandeur.
It is rather difficult to get to other sides of Moscow peak, as only helicopter flight can be used for it.
Authority:
http://mountains.tos.ru/clmb.htm "Yearbook of Soviet mountaineering." State publishing house of geographical literature.