Omar Khayam monument in Dushanbe.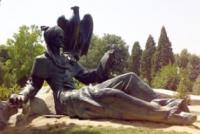 Excursion tours over sculptural monuments of Dushanbe.
"If the houri kisses passionately on the mouth,
If your interlocutor is wiser than Christ,
If a musician is better than the heavenly Zuhra -
Everything is not a joy, since your conscience is not clear!"
Omar Khayyam.
VIP tours in Dushanbe.
Monument to Omar Khayyam is located on the north side in front of the building of the Avesto Hotel, located on the central street of the city, Rudaki Avenue in Dushanbe. The author of the work was the Ukrainian sculptor Anatoly Galyan, who also created the monument to Avicenna in Dushanbe, for which he was awarded the State Prize of Tajikistan.
The monument is a four-meter bronze sculpture of a poet sitting among boulders. In his left hand he holds a clay tablet to put on it the text of one of his works. The image is completed by the majestic figure of an eagle, which proudly sits on Khayyam's shoulder.
Omar Khayyam is known not only for his famous rubaiyat quatrains, but also for a number of works in various fields of science and art. He was considered by his contemporaries to be the greatest of the wisest.
Geographic coordinates of monument to Omar Khayam in Dushanbe: N38°35'19.33" E68°47'08.92"
Authority:
Tourist guidebook on monuments of Dushanbe.