Square named after Abuali ibn Sino in Dushanbe.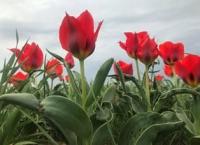 Dushanbe guide.
"I have always divided humanity into two parts. There are garden people and home people. These people drag their house with them everywhere, and you suffocate in their four walls. You have to talk to them to break the silence. Silence in houses is painful. But they walk in the gardens. There you can be silent and breathe the air. You feel at ease there."
Antoine de Saint-Exupery.
Best photos of Dushanbe.
The Abuali ibn Sino Square is located in the central part of Dushanbe, on Abuali ibn Sino Avenue, north of the educational building of the Tajik State University, west of the Republican Cardiology Center opposite the Republican Hospital, between the Gissar Canal in the south and Somoni Avenue in the north.
Abuali ibn Sino Square was erected to celebrate the 1000th anniversary of the great encyclopedist and healer of the East.
Geographical coordinates of square named after Abuali ibn Sino in Dushanbe: N38°34'47.99" E68°45'16.26"
Authority:
Salia Mamajanova, Rustam Mukimov. Architecture and urban planning of Dushanbe (history, theory and practice). - Dushanbe, 2008, p. 173 - 174.
Photos by
Alexander Petrov.