Padayataktepa - citadel.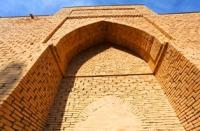 Excursion trips on Shakhrizabs.
"History is too serious a matter to be trusted by historians"
Ian MacLeod.
The best photos of the monuments of Kashkadarya.
To the north from small kishlak Kumyrtepa of the Kashkadarya province of Uzbekistan, on the left coast of the small, shallow small river Shurabsay originating mountains Zarafshan, from the north on the south three alternate tepa a various configuration which together make three parts of ancient capital Nautak - Padayataktepa, Uzynkyr and Sangirtepa.
In the middle of 80-years of XX century archeologic monuments Shurabsay of the microoasis dispersed within the limits of nearby 5 km from each other, for the first time have been surveyed by employee KATE (Kesh archeologic-topographical expedition) N.I.Krasheninnikova.
Then these three hills are certain as a citadel, as city and temple Nautak. Padayataktepa - a citadel of city, the area 270 × 74 meters. It is located in northern part of city, on high steep I protect Shurabsay.
As a result of archeologic works on a site of ancient settlement four building horizons are found. The most ancient cultural layers of a site of ancient settlement are dated IX - VIII в.в. Up to н. э. In one of archeologic ruins in western part Padayataktepa, the site of a fortification akhmenids and Ellins the periods is tracked.
These walls show, that the city of Nautaka had (as well as site of ancient settlement Afrasiab in Samarkand the aristocratic part enclosed by a separate wall - an acropolis. With the termination of board of Alexander the Great the city is thrown, acropolis Padayataktepa continues to grow roots only.
The new town arises on high the right to coast of the river Aksu, on a place of site of ancient settlement Kalandartepa, in feature the modern town of Kitab.
Authority:
 https: // ru.wikipedia.org