Palace Kibla Tozabog.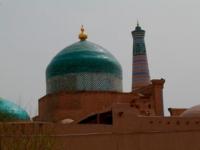 Tours on architectural ensembles and complexes of Khiva.
"History is too serious a matter to be trusted by historians"
Ian MacLeod.
The History Khiva - Silk Road Adventures.
Residence Mukhammad Rakhim-khan II has been constructed in 1897 and concerns to Dishan-qala. The palace complex is located in two kilometers to a southwest from city and borrows territory with the area of 0,5 hectares.
Kibla Tozabog consists of three court yard of the different size with inhabited two-storeyed houses behind of high aivans and service constructions on perimeter. In the first court yard of a complex there is a big reservoir (now - a fountain) on the middle and beds, and also a hall for receptions with greater windows in the European style.
Besides in a years residence there are winter and years mosques, madrasah, school, a stable and a mill. Palace Kibla Tozabog is surrounded by gardens. To the south of this residence there is other years residence constructed by the prime minister of Yafandiyar-khan Said Islam Khodja.
Both of a complex are constructed from burnt a brick in the European style, walls are decorated by a groove on ganch, covered by gold. Wide and convenient doors have been made by master Herman Mennonit who has arrived to Khiva from Russia.
Authority:
«Khiva city and legends» the tourist guidebook across Khiva.