Peak Bogatyr. North Tien-Shan.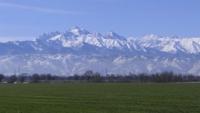 Walking Holidays summit ascent in Kazakhstan.
Kid, you'll move mountains" 
Dr. Seuss. «Oh, The Places You'll Go!»
Photo Tours climbing in Kazakhstan.
The peak the Bogatyr is located in the Main ridge of Zailiysky Ala-Tau between Severtsov peaks in the north and Kalesnik peak in the south at the height of 4 754 meters above sea level. Top three-headed distance between tops on average on 400 meters.
Peak tops the Bogatyr are located approximately at one height. First climbing on top the Bogatyr it was climb in 1947 by Mikhail Eduardovich Grudzinsky. Mikhail Eduardovich was born in the village of Lokhvitsy of Poltava region.
Authority:
 http://almatyregion-tour.kz