Plane-memorial IL-18 in Khudjand.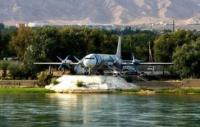 Sights of Khudjand.
"Cities were always like people, showing their varying personalities to the traveler. Depending on the city and on the traveler, there might begin a mutual love, or dislike, friendship, or enmity. Where one city will rise a certain individual to glory, it will destroy another who is not suited to its personality. Only through travel can we know where we belong or not, where we are loved and where we are rejected" 
Roman Payne.
Visit to Khudjand.
Plane-memorial IL-18 established on right protect the rivers of Syr-Darya in the end of 70th years of the last century, is one of places of interest of city of Khudjand. In Khudjand till 1979 plane-memorial IL-18 was used as a simulator for rescuers.
Then he has been established as a monument on coast of Syr-Darya. Long time as a monument the plane was used as cafe-ice-cream where ice-cream submitted in metal plateaus on a high leg.
The cafe enjoied the big popularity at local residents. Some adventurouses even made jumps from a roof of the plane to Syr-Darya. And planes of this model as monuments have been established in 17 cities of the former Union, including in Khudjand.
Authorship:
The Tourist guidebook on monuments of Khudjand. 2012.