Pskem river.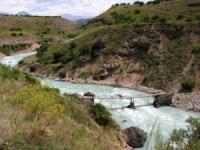 Walks on Silk Way of Uzbekistan.
"As soon as man seeks to penetrate the secrets of nature - in which nothing is secret and it is but a question of seeing - he realizes that the simple produces the supernatural" 
Honore de Balzac.
Rafting on the river Pskem.
Pskem the river is in the north in Bostanlyk district of the Tashkent region of Uzbekistan. River Pskem extent - 70 kilometers. The area of the pool - 2540 kilometers square. The second part the river Chirchiq, the river Pskem, begins in glaciers and of the Talas Alatau.
Its sources are Maydaital and Oygaing, after merge it flows in the narrow gorge through numerous thresholds. Around the Charvak reservoir Chatkal and Pskem merge, forming Chirchiq - the inflow of Syrdarji most abounding in water.
A river diet from snow and glaciers. The river Pskem originates from confluence Maydantal and Oygaing who arise in glaciers of the Talas Alatau in the territory of Kazakhstan and Uzbekistan. In headwaters the river flows on the narrow rocky gorge, below the gorge of the river considerably extends.
Throughout more than 40 kilometers Pskem flows on the wide Pskem valley located at a foot of the Pskemsky ridge. Before formation of the Charvaksky reservoir confluence Pskem and Chatkal formed the river Chirchiq.
Now the river Pskem flows into the Charvak reservoir. On river banks, flowing on the Pskem valley, there are bush thickets, and also fruit-trees meet (apple-trees, pears, apricots and plums), small groves of walnut meet, and also maples and a poplar grow.
Authority:
http://www.sijjak.com