River Beldersay.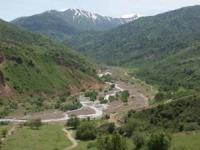 Trip from Tashkent to Beldersay.
"Nature reacts not only to physical disease, but also to moral weakness; when the danger increases, she gives us greater courage"
Johann Wolfgang von Goethe.
Walks in the valley Beldersay.
River Beldersay the mountain river in Bostanlyk district of the Tashkent region. The river Beldersay is the largest (together with Nurekata), right inflow of Aksakatasay. Length of the river Beldersay is equal 23 kilometers, the area of the pool - 77 kilometers square. 
The average annual consumption of water makes 1 meter cubic on centimeter. River food snow and rain. River Beldersay originates on southwest slopes of the mountain of Big Chimgan, at the height about 2250 meters above sea level from springs. In the spring Beldersay is deep, in the course sometimes there pass mudflows.
River Beldersay has the western direction, the course forms a set of bends. On the current Beldersaya small settlements of Kyzylor and Dzhurekbau are located. Opposite to inhabited Karamazar the river Beldersay flows on the right into the river Aksakatasay at the height about 840 meters above sea level.
21 small inflows fall into the river Beldersay. Rather large inflow is Bodamsay (at the left). In a river basin of Beldersaya mountain skiing competitions are held, a number of sporting venues of the international class is built.
Authority:
http://www.sijjak.com