Rivers and lakes of Yereymentau.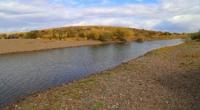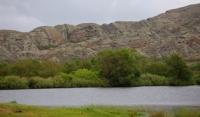 Sights of the mountains of Yereymentau.
"The creation of a thousand forests is in one acorn"
Ralph Waldo Emerson.
A trip from Astana to the mountains of Yereymentau.
In the Yereymentau mountain range and its environs, which are located in the Yereymentau district of the Akmola region and the southern part of the mountains in the Osakarovsky district of the Karaganda region, there are more than twenty lakes - Toygankol, Tandykol, Maykol, Kumdykol, Bozaygyr, Koblankol-Azhybay, Tlybet, Tlebet Kobeituz, Taipei, Shoptykol, Balykhty, Kairakty, Aschykul, Turgai, Kaskat, Shakshabay, Karakol and others.
The western part of the Yereymentau mountains is especially rich in lakes. The depth of the lakes is small: from one to ten meters in some cases. The lakes are filled due to the spring flood, then they especially become large.
Some lakes are silted and overgrown with reeds are in the stage of degradation. In the spring due to meltwater, life in them still warms up, and then, especially in the hot summer months - June, July, they often dry up. In the mountains and the surrounding area, there are more than twenty streams and rivers.
Among them are the rivers Kumai, Karasu, Kuanysh, Zhartas, Akmyrza, Karashat, Karabay, Kedei, Zharsor, Baigul and others. The largest are the rivers Selety and Ulenti. There are the largest artificial reservoirs not only in the mountains, and in the region is the Seletinsky reservoir.
The ichthyofauna of water bodies is quite diverse. Gold and silver crucian carp, ide, mackerel, tench, pike, perch, ruff, burbot feel great in rivers, lakes, the reservoir, carp, bream, pike perch, whitefish, silver carp, grass carp, and other representatives of the open spaces acclimatized.
Springs are an invaluable gift of nature. It is they who carefully collect meltwater and rainwater, and filter it. Springs are not only the basis for the formation of forest streams and small and large steppe rivers. Along with meltwater and summer rainfall, they well feed the steppe lakes with clean water.
Authority:
http://ereimentau.kz
Photos
Alexander Petrov.