Rudakhi monument in Dushanbe.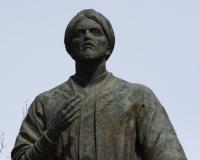 Group tours on places of interest of Dushanbe.
"You don't know, musky-haired, my beautiful peri,
What was your servant before, in the prime of life.
With chovgans of curls, can you now straighten his camp?
And he was slender before, and the curls curled like a chovgan.
He was joyful and cheerful in those golden years,
Although he sometimes had a shortage of gold."
Abulhasan Rudaki.
Tajikistan Mountains Tours.
Monument to Abu Abdullah Rudaki is located in the central part of the Rudaki park "Gods Ustod Rudaki" in the square of Rudaki and Khofiz Sherozi avenues and Tehron and Shotemur streets. In the western part of the monument is the Palace of Nations (Palace of the President) of Tajikistan, in the southern part of Dusti Square, in the eastern city Hukumat, in the northern part of the oldest hotel in the city "Tojikiston".
The monument was erected in 2007. Sculptor Alexander Rukavishnikov, artist-architect Sergei Sharov, Tajik artist Sabzali Sharipov, as well as the chief architect of the project Sirojiddin Zukhuriddinov.
Geographical coordinates of monument to Abu Abdulakh Rudaki in Dushanbe: N38°34'35.67" E68°47'01.06"
Bust of Abu Abdulah Rudaki is installed on central facade of National Library of Tajikistan named after Ferdousi.
Abu Abdullah Jafar ibn Muhammad Rudaki - Persian poet, singer, founder of Persian literature. One of the first famous Persian poets who began to compose poems in New Persian. He is considered the "father of Persian poetry", who stood at the origins of literature in this language.
According to legend, he composed about 180,000 bayts, of which about 1,000 came to light. 2 qasidas ("Mother of Wine" and "On Old Age") and about 40 rubais have survived in their entirety.
Geographical coordinates of bust of Abu Abdullah Jafar ibn Muhammad at National Library in Dushanbe: N38°34'23.55" E68°47'01.08"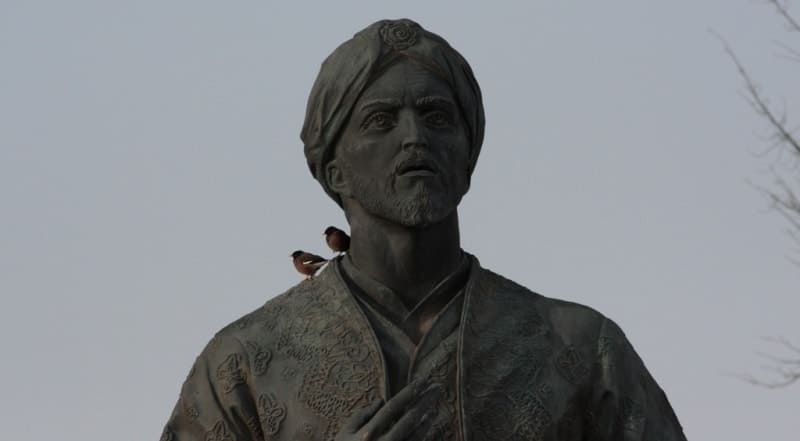 Authorship:
Javad Abed Khorasani. http://www.asraresokhan.com
Photos by
Alexander Petrov.