Sarykamys lake in Bayanaul.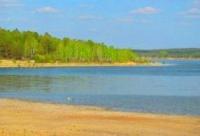 Highlight tour from Astana to Almaty.
"Everything is good in nature, but water is the beauty of all nature"
 S.T. Aksakov.
Guided walking tour from Astana to Pavlodar.
Lake Sarykamys is closed, located 11.5 km west of Lake Zhasyby (in the center of the Bayanaul mountains) in the Bayanaul district of Pavlodar region at the base of the northwestern slope of the Bayanaul mountains.
It is confined to a decrease in the contact of the granite Bayanaul massif and small hills effusives. The lake is about 500 meters long and 100 to 250 meters wide. The shores are gentle, silty, loamy with the inclusion of sand and pebbles.
The banks are partially overgrown with reeds. In the lake itself, grassy vegetation is sparse. The depth of the lake is not more than 1.5 meters. Total mineralization of water 1.1 g / l. Composition bicarbonate magnesium-calcium-sodium pH = 7.3.
Lake Sarykamys and several small unnamed lakes located to the west are confined to a latitudinal direction fault. To the south of the lakes the Bayanaul Mountains are located to the north, the catchment is characterized by hilly small hills.
The height of the hills within the catchment reaches up to 50 meters. As you approach the lakes, the height of the hills decreases and reaches 2.5 m or less.
Authority:
Advertising booklet of Bayanaul Park, 2003.
Photos
Alexander Petrov.