"Sculpture Astana".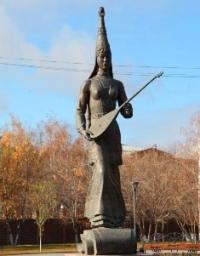 Car routes of Kazakhstan.
"In order to use many things, a person must be ... a highly cultured person..."
Karl Marx.
Sculptural monuments in Nu-Sultan.
The "Astana" sculpture is located in the garden square on Tashenov street. The garden square attracts attention for its small architectural forms, one of which is central to its composition – that is the "Astana" sculpture.
The monument was opened on June 26, 2002. The bronze "Astana" sculpture represents the image of a girl in a native costume, in whose hands there is a traditional musical instrument of the Kazakh people - dombra.
The elegant, graceful girl's figure reflects musicality to the spirituality of the Kazakh people. Under her feet there is a steppe symbol - feather grass. The image of a young girl symbolizes the young capital, beauty, friendliness, good intentions of Kazakhstan, its openness to other peoples, countries and continents.
The sculpture is made of bronze and mounted on a marble pedestal, which is executed in the form of a parallelepiped, trimmed on the corners, giving the composition a certain delicateness. The author of the sculptural composition is a member of the Union of Artists of the Republic of Kazakhstan, Assistant Professor of sculpture A.Kh.Bayarlin.
Zhumabek Akhmetovich Tashenov was born on March 20, 1915 in the Babatay tract, now the village of Koygeldy, Arshalinskiy district of Akmola region. He began his career in 1933 at the Soviet work in Northern Kazakhstan.
Then he worked as Deputy Secretary of the North Kazakhstan regional party committee, a chairman of the North Kazakhstan oblast executive committee. In 1952 he was appointed the First Secretary of the Aktobe Regional Committee of the Communist Party of Kazakhstan.
In 1955 Zhumabek Tashenov became the chairman of the Presidium of the Supreme Soviet of the Kazakh SSR and in five years - the chairman of the Council of Ministers of the Kazakh SSR. In 1956 - 1966 a candidate member of the CPSU Central Committee, a member of the Supreme Soviet of the 4th convocation of the USSR.
In 1949 - 1961. he was a member of the Central Committee of the Communist Party of Kazakhstan. In 1961 L.I. Khrushchev proposed the Virgin Lands  area (five northern regions of Kazakhstan) to be attached to the RSFSR.
The Chairman of the Council of Ministers of the Kazakh SSR Zhumabek Tashenov opposed, appealing the Constitution of the Soviet Union. For it, two months later he was removed from his post. Since 1961 Zh.Tashenov worked as a deputy chairman of the executive committee of Shymkent.
  For special merits before the people he was awarded with the Order of Lenin, Red Banner of Labor, "Badge of Honor".
Authority:
http://direkt-15.kz/pamyatniki/skulptura-%C2%ABastana%C2%BB-2002-g.,-v-skvere-po-ul.-zh.-tashenova.html