Shahimardan a minaret.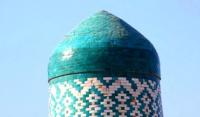 Excursion trips on monuments of Khoresm.
"By exterminating the Turkmen Hazaras,
We concluded the bonds of their people.
Husbands and fathers made captives,
The wives and children also took them prisoner. "
Zahir ad-Din Mohammed Babur. "Babur-Nama."
Photo tours of the monuments of Khorezm.
Minaret Shahimardan is constructed in XVIII century, between madrasah with the same name and a mosque which is being today in territory of settlement Pahlavan Mahmud in Khivan area of the Khorezm province.
This minaret, the smallest in Khiva, is decorated by green "bends".
The sizes: height - 5 m; diameter of the basis - 1.5 m.
Authority:
 Ya. G Gulyamov. «Monuments of town of Khiva». Publishing house UzFaN. Tashkent. 1941. «Khiva town and legends» the tourist guidebook across Khiva.