Sheikh Mavlon Bobo minaret.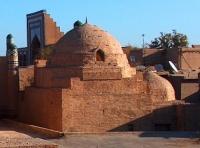 Cultural excursion tours over monuments of the Khorezm province.
"Salty land will not bring hyacinth,
Do not destroy the seeds of hope in vain.
To do good to bad people is the same
What to do wrong with good people "
Zahir ad-Din Mohammed Babur. "Babur-Nama."
Photos of Khorezm.
Sheikh Mavlon Bobo minaret is constructed in XIX century, located in territory of collective farm Agahi of Khivan area of the Khorezm province, near to a mosque with the same name. The minaret and a mosque have been restored before 190 anniversaries Agahi.
The minaret from burnt a brick, has spiral staircases which conduct to four arch apertures. The sizes of a minaret height - 10 meters, diameter of the basis - 3.2 meters.
Authority:
 http: // www.pagetour.org