Shirin-bika-aka mausoleum.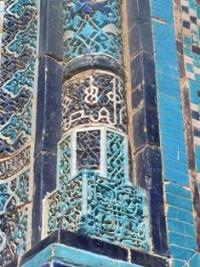 Cultural tour of Samarkand.
"Kadar Khan died, how can he not Samarkand sometimes grieve?
Melikshah was gone, how couldn't Klarasan cry on him for a day?
Melikshah was fire and water, the water was leaking, the fire was extinguished,
Now dust and ashes remained in his Isfahan.
Didn't Sanjar first attack Gur-khan, and in the end
The mortal hour attacked him, and the tomb became his bedchamber"
Alisher Navoi.
Cultural Sights of Samarkand
The ensemble of Shahi Zinda was formed over IX centuries and includes more than twenty structures of the IXth - XIVth and XIXth centuries. Mausoleum of Shirin-Bika-aka, sister of Timur Shirin-bika-aka (1385 - 1386). belongs to the Iranian stylistic circle.
This mausoleum belongs to the earliest ones, decorated with the finest type-setting tile mosaic. Its dome is raised on a drum with windows, thanks to which in the interior a lot of light reigns here a white background with light paintings on the dome and ornamental, and also landscape on the walls.
The portal is covered with multicolor kashin mosaics with a predominance of sapphire blue tones. The oldest structures of the ensemble, from which only the bases and gravestones are preserved, date from the XI - XII centuries.
The overwhelming majority of the buildings belong to the XIVth - XVth centuries, and the restructuring of the XVIth - XIXth centuries had practically no effect on the composition and appearance of the complex. Shakhi-i-Zinda is the only archaeological and architectural monument in Samarkand, in which, including the cultural layers of Afrasiab, almost 25 centuries of the city's history have been reflected.
These structures date from the last quarter of the XIV - beginning of the XV centuries.
In 1940, major overhaul and restoration work began, during which a wonderful interior panel was opened.
Enlightener:
G.A. Pugachenkova.
Photos by
Alexander Petrov.