Sokh river.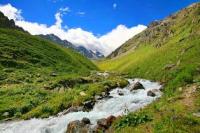 Wildlife Tours in Fergana valley.
"Water was given the magical power to become the juice of life on Earth"
Leonardo da Vinci.
Photo Gallery of Uzbekistan.
The Sokh River flows through the Batken region in Kyrgyzstan and the Fergana region in Uzbekistan. The length of the Sokh River is 124 kilometers, the catchment area is 3510 square kilometers. The Sokh River originates from the village of Korgon on the northern slopes of the Alai Range at an altitude of over 3000 meters above sea level, formed by the confluence of the Ak-Terek and Khoja-Achkan rivers. It flows mainly to the north.
In the middle reaches it serves as the main source of water supply for the Sokh region (exclave of Uzbekistan). In the Fergana Valley, it is completely disassembled for irrigation, being lost in irrigation fans and fan cones.
It does not reach the Syr Darya River since the late 1940s. The average consumption of water near the village 44 kilometers from the mouth near the village of Sarykonda is 42.1 cubic meters per second. Food is mixed, glacier-snowy, also underground.
High water is observed during the period of intense melting of glaciers from June to September. Water is used for irrigation and water supply to the population. Due to the rapid population growth in the Sokh valley, there is a lack of water for the local population.
Authority:
http://www.cawater-info.net/bk/water_land_resources_use/docs/rivers.html
Photos by
Alexander Petrov.