Stone statues Zhylysay.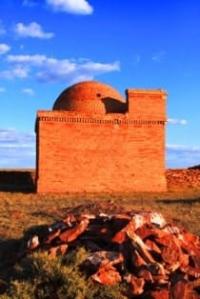 Tours in Ulytau mountains.
"I've known rivers:
I've known rivers ancient as the world and older than the flow of human blood in human veins. My soul has grown deep like the rivers" 
Langston Hughes.
Archeologic sights of Central Kazakhstan.
The Zhylysai stone statues located at an altitude of 493 meters above sea level, are located in the southwestern outskirts of the Ulytau mountains, 3.4 kilometers south and slightly east of the Korgasyn winter road, 10.7 kilometers southeast of the Akshoky mountain 798 meters above sea level, 32.1 kilometers to the west and slightly south of the Aiyrtau village and 25.2 kilometers south-west of the Ulytau village in the Ulytau district of the Ulutau region.
Stone sculptures Zhylysay is a significant group of monuments - stone sculptures found in the territory of the Karaganda region of Kazakhstan. They belong to the era of the Türkic Kaganate (VI – VII centuries) and Kipchaks (VIII – XIII centuries).
The statues of the Kaganate era are installed in the eastern part of the stone fences. The total number of stone fences Zhylysay is eight, in the eastern part of each of them stone sculptures are installed. Three of them are destroyed.
Of the five sculptures that have survived to our time, two represent an elderly man, two - young men, one - a woman of middle age. Perhaps the last statue is a reflection of the goddess Umai, who protects children.
The monuments depict drawings of a saber, dagger and other weapons, utensils (cups for drinks). Before the stone sculptures of the batyrs, generals, a string of balbals (Stone statues) is placed. Sometimes their number reaches 200.
Along with male statues, female figures were also established. Depending on the age of the person they are called "girl-stone", "woman-stone", "old woman-stone." Ulytau monuments provide valuable information reflecting the history of the spiritual culture of the tribes inhabiting the territory of Kazakhstan.
Geographic coordinates of stone statues of Zhylysay: N48°29'35,24" E66°45'45,86"
Authority and photos by:
"Archaeological map of Kazakhstan." Alma-Ata, 1960. No. 937, table III, 16.21. Akishev K.A. "Antiquities of Northern Kazakhstan." "Proceedings of the Institute of History, Archeology and Ethnography" T.7. Archeology. Alma-Ata, 1959. p. 9, fig. 4-5, tab. I. Margulan A.Kh. "The remains of settled settlements in Central Kazakhstan." "Medieval hillforts and settlements." Zhezkazgan, 1996.111 s. www. tengrifund.ru