Thermal springs in Chundzha.
Rest at springs in Chundzha.
"Idleness and indolence not only give rise to ignorance, they are at the same time the cause of illness"
Ibn Sina.
A trip to hot springs in Chundzha.
Thermal springs of the Karadalinsky field are located in the northeast, 50 kilometers from the village of Chundzha. The flow rate of the springs is from 129,600 liters per hour, which is the Bolshaya Ketmenskaya artesian well, to 14,000 liters of water per hour.
Thermal mineral springs are divided into warm (20 - 37 ° C), or hot (37 - 50 ° C) and very hot (50 - 100 ° C). Artesian springs stretch for 52 kilometers from west to east, while the width, from north to south, of the springs spreading is no more than 200 - 300 meters.
About 140 different sources are concentrated here. The springs are located on the southern side of the Ketmen ridge on the flat part, in the north they are bounded by the Karabaskum sands and the Ili River. The spring water contains radon and silicon.
Water from thermal springs is used to treat various kinds of diseases, including diseases of the gastrointestinal tract and respiratory tract. According to studies carried out in 2010, the water in the springs of the Karadalinsky field in the Uygur district of the Almaty region is a medical-table weak mineralized acrotherm (hypertherma) of a complex sulfate-hydrocarbonate-chloride sodium composition.
The chemical elements found in the waters of the sources help in the treatment of many diseases, including skin diseases, ulcers, arthrosis, osteochondrosis, salt deposits, fractures; gastritis, cholecystitis, pancreatitis; pyelonephritis, glomerulonephritis, stones; heart attack, hypotension; diseases of the reproductive system; insomnia, chronic fatigue, depression.
In addition, radon baths contribute to the normalization of metabolism, improve the work of the adrenal glands and heart, increase immunity, and normalize cholesterol, insulin and blood sugar levels.
Before starting radon treatment, you should consult your doctor. In the area of ​​hot springs in Chundzha there are many recreation areas, sanatoriums and recreation centers.
Geographic coordinates of thermal springs in the environs of Chundzhy: N43 ° 39'32.62 "E80 ° 08'09.79"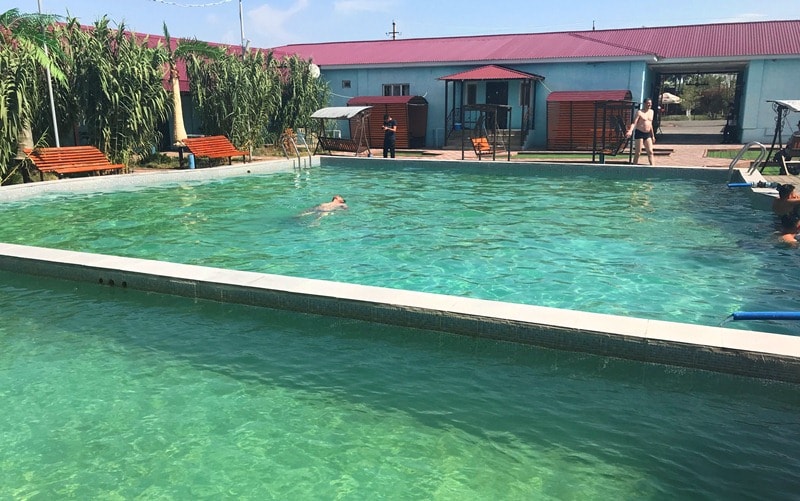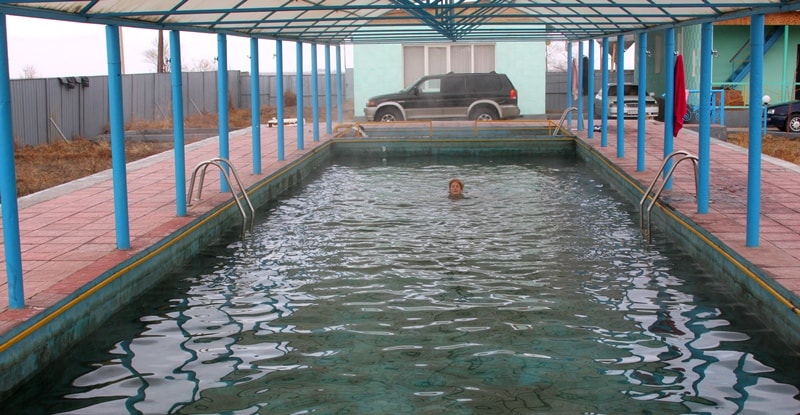 Authority:
Alexander Petrov. https://xn--80ahg0a3ax.kz/article/ba959a7fa?nxt=1
Photos by
Alexander Petrov.