Ulken-Kokpak gorge.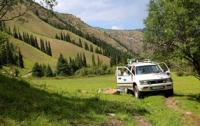 Flower Tours Almaty region.
"The lilac haze does not descend from the top,
An arrow never touched her ..
The soul would breathe the pure air of the mountain -
I could not forget him until the grave"
Saken Seifullin. Poem "Kokshetau".
Wildlife Tours in Almaty region.
Ulken-Kokpak gorge is located on the northern slope of the Terskey Alatau ridge between the Kopyl mountains in the west and the northern spurs of the Meridional ridge in the Narynkol district of the Almaty region.
The gorge, for the most part, is sustained in the meridional direction and only in the upper part in the vicinity of the Tuyukash gorge adjacent to the east, the gorge turns to the west. The length of the gorge from the Kokpak pass, 3482 meters above sea level, from where the Ulken-Kokpak (Koksel) river originates and to the northern slopes of the Degeres mountains, which turn into the plain, is 47 kilometers.
In the southern part of the Degeres mountains, where they join the northern spurs of the Terskey Alatau ridge, the Ulken-Kokpak gorge expands to 4 kilometers from west to east.
The river of the same name with a length of 50 kilometers flows along the gorge. Ulken-Kokpak gorge is located between Bayankol gorges in the east and Orta-Kokpak in the west. From the east to the Ulken-Kokpak gorge, the long and wide Buzunbai gorge adjoins, to the south from the west the narrow and impassable Tuyuk-Kokpak gorge adjoins.
There is a road along the gorge, which is in good condition in the upper part in front of the tourist center. The upper part of the gorge is very picturesque, along the way there are cozy meadows, a river framed by Tien Shan firs, herbs, mixed forest.
On the right side of the Uzun-Kokpak River, at the mouth of the Buzunbai River, there are several cottages of the camp site.
Geographic coordinates of Ulken-Kokpak gorge: N42 ° 36'06.68 "E79 ° 50'42.41"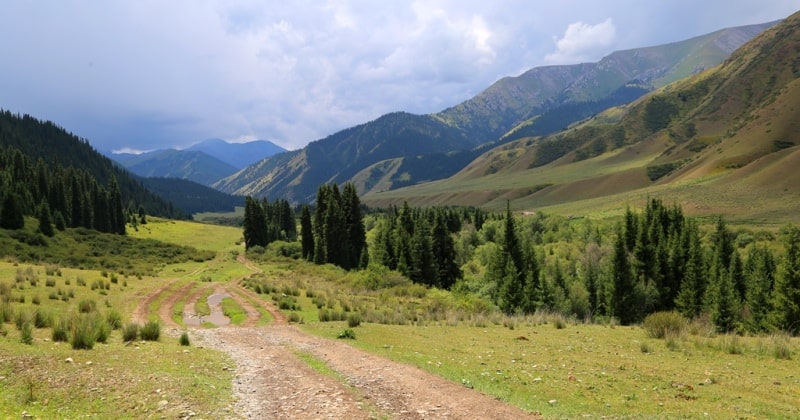 Authority and photos by
Alexander Petrov.