Tursunzade town.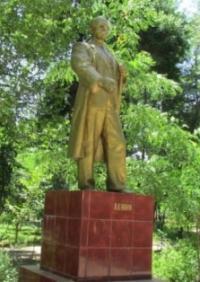 Excursions on cities of Tajikistan.
The Tursunzade Town (formerly Regar) is located in picturesque gorge of the western part of the Gissar Valley between the Karatag and Shirkent Rivers at altitude of 750 meters above sea level in 57 km to the west of Dushanbe.
From the northern part tower Machitli Mountain Ridge, from the south - Babatag Mountain Ridge. Climate here is moderate with hot dry summer and mild winter. In summer temperature reaches + 40 degrees С and more. In winter average temperature is about + 2 degrees C.
The modern city has arisen on a place near Regar station of the railway Termez-Dushanbe in the 30,h of XX century. The historical name of Regar has originated from the word "reg", that in translation means clay for manufacturing ceramic items.
Archeological excavation of these places testify to high skill of the local potters, who produced perfect creations from clay - utensils, facing materials for architectural structures, burned bricks and other.
By the way, the work of these craftsmen can be seen in the unique architectural monument - Khoja-Nahshron Mausoleum, which is located in 15 km to the southeast of modern Tursunzade.
"Regarri" - so it was called this craft in antiquities dated IV - I centuries BC. The art of the local craftsmen was known far away from Regar during Kushan Empire times. At the beginning of XX century Regar population accounted about 4 thousands people.
In 1938 cotton gin building was constructed in the town. In 1979 Regar was renamed into Tursunzade. Modern Tursunzade is a large economic and cultural center of Tajikistan. In 1965 construction of the Tajik Aluminium Plant (TADAZ) has begun. In March 1975 the first aluminium ingots were produced.
Now the Plant produces primary aluminium as pig metal, bars, flat ingots for rolling and cylindrical ingots for obtaining pressed profile and alloys, items of cultural-economic and household use (utensils, art-painting trays, window and door frames, motorcycles and bicycles).
About 13,000 people are working in Plant's workshops and departments today. The history of the plant can be traced in the local museum. A two-kilometer highway connecting TADAZ with the city brings us directly to the city center, where the market is located.
Here it is possible to see traditional items of the local craftsmen. National household tools are produced in smith's workshops, skilful needle women will offer perfect copies of a national wear.
The items of clay utensils impress with the variety and color, and certainly, national cuisine. Hardly someone will leave the place not trying tasty viands. Tursunzade's area is famous for its grapes and rice.
Tursunzade china factory is young but already well known by its products. Traditional porcelain utensils, souvenirs, tea services are produced here. In painting of porcelain items the elements of figures of Kulyab's embroideries, Khojent's carpet makers, Istravshan's wood carvers are used.
Elements of Tajik national ornamental architecture are widely applied. A perfect memorable souvenir will become an item of Tursunzade china factory.
Authorship:
The Tourist guidebook on monuments of Tajikistan. 2012.