Tuyuk glacier. Ala-Archa gorge.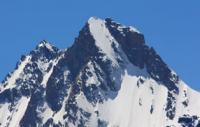 Glaciers in Ala-Archa park.
                    "The stone swayed forward a little
And rushed down to the river
Twenty one bad years
He hung on his right hand"
Yuri Vizbor. December 1954.
Walk to Tuyuk glacier in Ala-Archa gorge.
The glacier is located on the northern slope of the Kyrgyz ridge, in the lateral (eastern) Ala-Archa gorge. The headwaters of the glacier begin at an altitude of 4149 meters above sea level in the main ridge of the ridge.
In the northern part of the Tuyuk glacier, there is a 1 kilometer long hanging glacier, which borders the Topkaragai glacier in its upper reaches. The length of the Tuyuk glacier moraine is 2.4 kilometers. In the upper reaches of the northeastern part of the glacier, there is the Altyntorashu pass with a height of 4109 meters above sea level.
The glacier is 3.9 kilometers long. The glacier area is 5.61 square kilometers. The middle part of the glacier in the west is separated by a powerful ridge 3 kilometers long, which descends from an altitude of 4315 meters above sea level from the Golubin glacier.
To the east of the Tuyuk glacier is the Altyntor Severny glacier, which belongs to the Alamedin river basin. The tongue of the glacier is located at an altitude of 3050 meters above sea level. From the Tuyuk glacier flows the river of the same name with a length of 1.5 kilometers, which is the right tributary of the Ala-Archa.
Geographic coordinates of Tuyuk (Novy) glacier, No. 251: N42 ° 27'33.01 "E74 ° 31'52.68"
Authority and photos by
Alexander Petrov.