Valley Taban-Karagai.
Tours to Kazakhstan.
"All the best in nature belongs to all together"
Petronius.
Drive to Kazakhstan.
The Taban-Karagai valley is located in the eastern part of the Zailiyskiy Alatau ridge at the junction with the western end of the Sarytau ridge in the Kegen district of the Almaty region. The tract is located on the northern slope of the Zhinishke gorge, it stretches for 15 kilometers from west to east.
Conventionally, the beginning of the valley is considered to be the eastern border bounded by the right, small tributary of the Zhinishke - Shetensay, which originates from the springs south of the Akkarly mountain with a height of 2398.7 meters above sea level.
The northern border is the channel of the Zhinishke River, the southern border is the watershed ridge with the Shilik River. The western border of the valley is the Kairakty tributary, which in turn flows into the Akkiya river and is the right tributary of the Zhinishke.
The valley is located at an altitude of 2644.7 in the vicinity of the western border and at an altitude of 2476.2 meters above sea level in the eastern part in the environs of Mount Akkarly. Thus, the height difference in the valley is 168.5 meters.
There is a tourist base of 4 cottages 18 kilometers to the west of the huntsman post. The valley is very picturesque, on the northern slope there are Tian-Shan spruce, mountain ash, willow, abundant herbs.
Geographic coordinates of the Taban-Karagai valley: N43 ° 05'45.85 "E78 ° 02'45.23"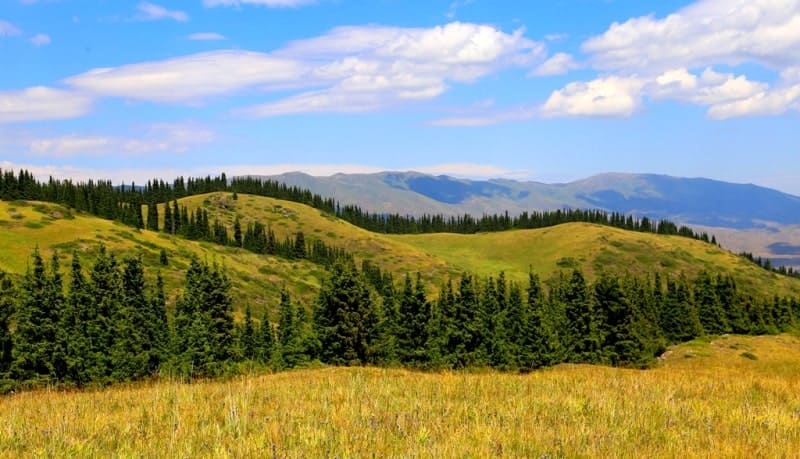 Authority nad photos by
Alexander Petrov.