Yahtang.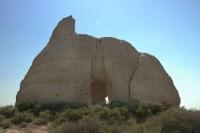 Outstanding architectural monuments of Turkmenistan.
Near Gyaur-Kala, the ancient city of Turkmenistan, there is most present "copy" of the Babel tower. Nearly 30 meters in the diameter and 13 meters in height, from the collapsed one of the parties - just what is  epresented on illustrations to the sacred writing.
Who could cook bread in such huge furnace-tamdyre, however, the majority meet that it is one of the first refrigerators in the world constructed in the XIVth century. Yahtang is situated 22 km to the south from the center of Kahka region.
There are two Yahtang-snow reservoirs. From the ancient times this place was suffering from a shortage of water. The local people learnt to use and keep snow in winter. Yahtang is a cupola construction, made of raw bricks.
In the eastern part of the ist Yahtang there is an entrance 1.75m wide and 2m high. It's diameter is 12m, height - about 15 - 20 m. The 2nd Yahtang is smaller in size and less pres. In fact, yakhtang was the first "refrigerator" ever.
This unique structure from mud bricks looks like a huge tandyr ( 10 m in height). By the way, when the structure was actively used it was even higher - up to 30 m. In the Middle Ages yakhtangs were used to store foodstuffs: huge khums with oil and wine, dried meat.
Indeed, when you get inside of such storehouse you feel the cold air. The similarity between yakhtang and a hearth is not accidental; the history has preserved its national name - "Tandyr Khadzhimelek".
Authority:
On materials of information department of the State committee of Turkmenistan on tourism and sport. "Religious and spiritual monuments to Central Asia". Author M. Hashimov. Saga publishing house, 2001.