Yarty Depe mausoleum.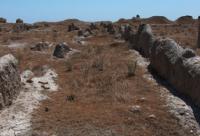 Interesting places in vicinities of Serakhs.
The XI - XIII c.c. monument represents a hill (8 m high).
Primarily it had a half rounded outline.
It's southern part is ruined.
As a result of archeological excavations dwelling houses and living rooms were opened.
Ceramics, glass and remains of metal products were found here.
Authority:
On materials of information department of the State committee of Turkmenistan on tourism and sport. "Religious and spiritual monuments to Central Asia". Author M. Hashimov. Saga publishing house, 2001.
Photos:
Alexander Petrov.