Yusuf Yasaulbashi Madrasah.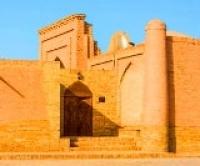 The most interesting places in Khiva.
"Ancient aphorisms outlived centuries. Modern aphorisms can barеly survive from book to book" 
Ljupka Cvetanova.
Foreign Independent Tour in Khiva.
In the ancient Ichan-Qala compound to the west from the mausoleum of the cult archaeological monument of Pakhlavan Mahmud opposite to madrassah Musa the Madrassah Yusuf Yasaulbashi is located.
It is considered one of the iconic landmarks of Ichan-Qala (inner city). The Madrassah was named in honor of the head of Khan's police Yusuf Yasaulbashi, on the money of who it was built by the wizard Qalandar Kochim in 1906.
At the beginning of the XX century during the conquest of the Uzbek Khanate by the Imperial Russia Yusuf Yasaulbashi supervised prison and was responsible for the security of the Khan.
He accompanied the confidential documents and supervised military units consisting of mercenaries of nomadic tribes. The chancellery of Yasulbashi was placed in the territory of the principal palace of Khivan khans,Tash-Hovley.
The  building of the madrassah Yusuf Yasaulbashi has the form of a rectangle, typical for a madrassah with no high towers at the corners. It is all laid out by a brickwork. The Entrance in the madrasah designed three-stage portal.
The lobby is completed in the traditional Muslim architecture of the dome room leading into the courtyard through the arched doorway. Windows and entrances are also decorated with archs.
In the north-east corner of the madrasah there is a small domed mosque. Currently in the territory of madrasah the local community (mahalla) committee - the organizing  committee of citizens living in the area, designed to support the population is located.
Authority:
http://welcomeuzbekistan.uz