Bokty mount on Mangyshlak.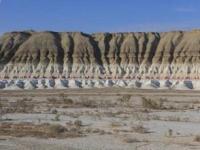 Tours, Travel, Holidays on Mangyshlak.
"All nature wears one universal grin" 
Henry Fielding.
Tours to Bokty mount on Mangyshlak.
Mount Bokty 165 meters above sea level is located in the Western part of the Ustyurt plateau, is located on the South side, about 17 kilometers from the highway leading from the town of Zhanaozen to the mosque Beket-ata.
South mountain closes the tract Baisary, from West to Bokty suitable tract Ajirektoi. Mountain Bokty is on dry deep sora, North side, which is limited by the protuberance of Golbasi, through which the road to the mosque Beket ata Mountains have an amazing feature with different inspection points to change their shape drastically.
Mountain Bokty one of them. On one side is a giant upside keel of the boat when viewed from the South, the mountain is related to majestic, rugged horizontal, multi colored stripes miraculous pyramid.
From the base to half of the mountain is colored white-yellow-red stripes, the remaining part to the top is a solid color from gray-brown to greenish.
The base of the mountain like the paws and figures of fantastic animals.
Authority and photos:
Alexander Petrov.