Camping trip to Fany mountains.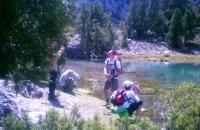 Corporate travel policy to Tajikistan.
"May came home with a smooth round stone as small as a world and as large as alone" 
E.E. Cummings.
Go for a ride to Fany mountains.
Running streams of the purest rivers, soft carpets of grass under foots, as sky so blue it makes your heart ache and then the majestic views, we are swept away by nature at her most beautiful. We wanted to get far away from civilization and found a place we didn't want to leave anymore.
The Alaudin alpine camp is 150 km by serpentine road from the border. First a regular asphalt surface, the road gradually worsens, we are winding upwards on jagged stone. Sheer rockwalls tower above us and the Zerafshan river rushes by way below.
Arrival at the camp where we'll stay in one of the small cottages. There's also a platform for tents. We clamber out of the jeep, we hear a river running nearby, and take in the breathtaking panorama. Lake Alaudinskie with its perfectly smooth surface before a backdrop of glistening eternal snow.
We are in the Fan Mountains and this is Lake Country. Fingers are pointed in all directions to indicate the major lakesides. What a choice we'll have. Time to settle in and explore the environment. The river flows into the small Lake Pjala, with crystal clear waters.
There are pastures, meadows, juniper trees, rock boulders covered with emerald moss. A donkey drinks from a small pool and cows are grazing while Tadjik shepherds with their sheep dogs whistle a shrill tone and a distinct melody to call their goatherds back home, to be counted before they are to spend the night in an enclosure.
After Sunset it gets cool and a wind blows, sending ripples across the lake. Good thing we brought sweaters and jackets. Our cottage is built from stone, gaps in the walls are filled with clay. This is how people in the settlements live, in simple stone huts, not meant to last forever, just for that one summer.
A new hut will be built the following year, after the winter storms and the occasional tremors have Ieft their traces. A Tadjiks summer camp will leave a lasting impression, it's so peaceful. There's a watermill where flower is grinded, donkeys sway by carrying brushwood.
And then there's the people; oh we have to tell you, the Tadjiks up here in their summer pastures are wonderful, the friendliest people you'll meet, and even thought they may not have much, they are truly hospitable.
You are certain to be invited to sit with them, tea will be served, a meal, they'll help you with whatever you need, advise you on the area, the sites, their favorite places up there beyond the trees and they'll tell you the stories of fairies, the oral heritage from their forefathers.
They will ask for nothing in return but you are free to reciprocate as you can. A hefty soup, the local shurpa is served for dinner, prepared by these warmhearted Tadjiks. Big junks of mutton and mutton fat, bone with tasty marrow are what the laws of local hospitality prescribe.
Rich plov, of course. We adapt, understanding full well that in these rugged climates one is not to be picky and that hardship calls for high calorie food. Spicy sauces sprinkled with sunflower and sesame seeds are set before us and flat rustic cookies serve as bread.
We dig in since we have great plans for tomorrow. Green tea rounds off the tasty meal. The next day we hire donkeys from these same locals and take off, upward bound. To the northwest of the camp there are two passes, Laudan (Kulikalon) of 3630m height and Alaudin of 3860m height.
And behind them lay the Kulikalonskie Lakes, a system of ten different size interconnected reservoirs. Another route will take you to Lake Big Hollow. Surrounded by sheer cliffs, at the foot of Chimtarge, the highest peak at 5489m.
From the camp, you ascend to the pass of the same name, then follow the Archamadjon River and further up, up, up, along a mountain river system. It's spectacular up here and if you are looking for a place far away from civilization that is it.
The solitude is precious. This is paradise in many ways, despite the lack of comfort - or maybe just for that very reason and really, notone of us wants to leave.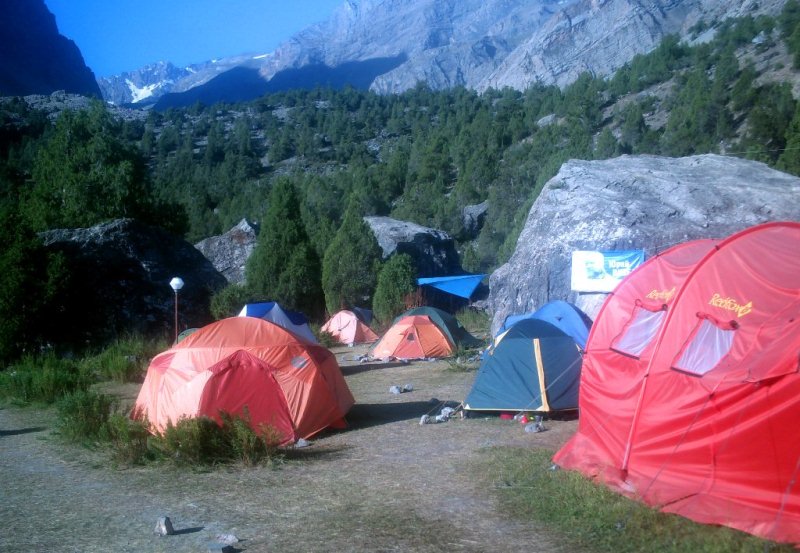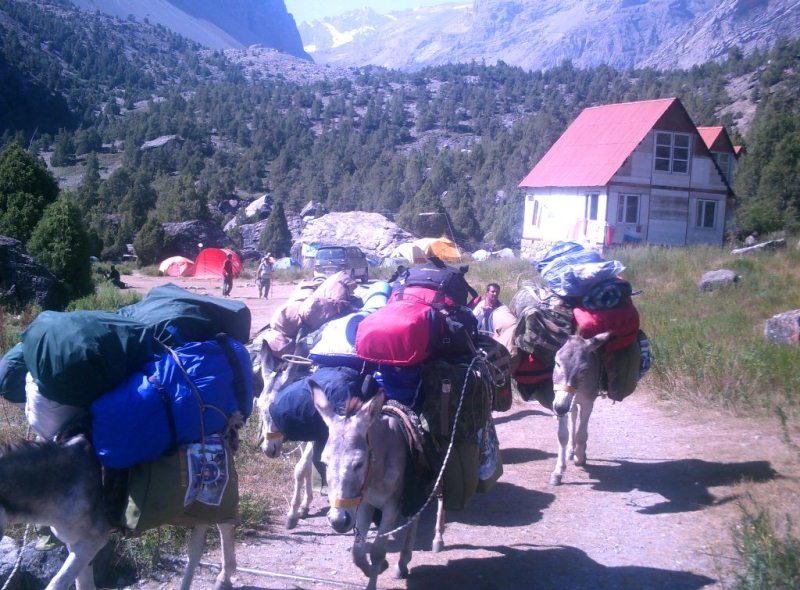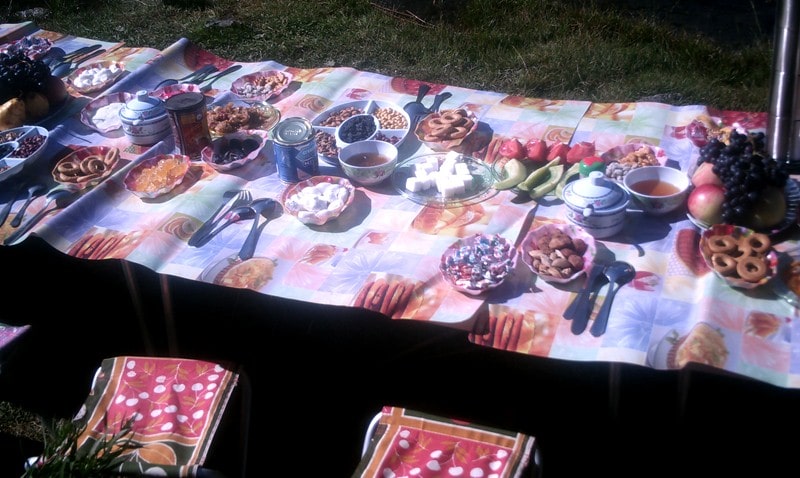 Authority:
http://www.discovery-central-asia.com/archive/2006/spr14.php
Photos by
Fariidun Khamroev.