Fam trip to gorge Kishi-Kaindy.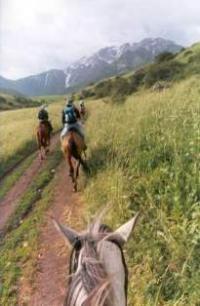 Botanical tours in reserve Aksu-Zhabagly.
To travel is to live" 
Hans Christian Andersen.
The short description of a route of excursion in gorge and on pass Kshi-Kaindy:
Settlement Zhabagly - gorge Kishi-Kaindy - a small house botanist Kishi-Kaindy - pass Kishi-Kaindy - settlement Zhabagly.
Distance of route: 24 km.
Season: from April 1th till September, 30th.
 Best time for excursion: April, May, June.
Advanced reservation: for 48 hours.
Duration of the tour: 1 day.
The detailed program of a faunistic and floristic excursion trip in reserve Aksu-Zhabagly:
Take an excursion Aksu-Zhabagly nature reserve.
Transfer to the beginning of walk on horses in vicinities guest house «Asel» (5 km). Horse riding: hotel "Asel" - field base a small house botanist 1800 meters above sea level (7 km) KishiKaindy. Botanical walk in vicinities of a small house botanists, walk to a falls on the river Kishi-Kaindy and to pass Kshi-Kaindy.
Excursion on junipers to a wood of northern exposition, a review of a valley of the river Zhabagly, Koylybaidjaylyau. During spring time for southern slopes it is possible to see mountain goats, argali, and golden eagles here fly. At good weather from pass the entertainment panorama on the central part of reserve and its picturesque top Bugultor opens. On the Alpine lawns primroses, buttercups, forget-me-nots and reservoirs live. Here one of the best chances to see a bear.
Valley Kishi-Kaindy - one of the most interesting and readily available sites of reserve. The length of a route (in one direction) makes about 7 kilometers. The excursion road goes on a slope along the river Zhabagly. The beautiful panorama of an extensive valley of this river from here opens. On the one hand the brilliant tape of the river Zhabagly, from below a wind is visible informs noise of the river. On the other hand - high snow tops. The road and on slopes has separate trees and the whole groves juniper. Sometimes they represent sites of the present wood.
Air fragrant also is sated juniper which cures all illnesses. Most strongly it is felt in hot summer days. Feature junipers belts are the beautiful glades of meadow vegetation borrowing all space between trees. Meadow wild grasses pleases an eye with bright paints at any time year. In the spring here riches: Gagea, Crocus, Corydalis, Leontice, anemones, Tulips, Juno, Korolkovia, young gentle leaves of the umbellate and other plants, later simultaneously blossoming plants yellow, pink, white and all shades of violet color, and the sea of blossoming bushes.
Among them it is possible to find interesting and rare plants: an onion, Morina kokanica, Aconitum talassicum, Dianthus hoeltzeri with tremendous aroma, and set of others. To you there will be some small groves of apple-tree Malus sieversii traces of activity of a bear - branches on copies with the most tasty fruits are broken repeatedly off. On plants and on the ground it is possible to find out interesting insects, the butterflies constantly flitting above colors are very effective.
To fans of botany and entomology is what to photograph. If to arm with the field-glass, it is frequent (especially in the spring) it is possible to see a bear grazed on a fresh grass at snow mountains, the mountain goats which are having a rest in rocks, and to see their traces on road. Among birds is interesting and rare Asiatic Paradise Flycatcher, Rufous-naped Tit, Yellow-breasted Azure Tit, Black-headed Penduline Tit, Blue Whistling Thrush, Stonechat, Long-tailed Shrike and others.
In the end of a route it is possible to have a rest on small field base, and then to pass further on road and to admire a falls in picturesque rocks. If it is possible to pass little bit further to drink waters from pure mountain stream Kishi-Kaindy and to listen to its noise in a shadow of willows. All this time before you will be beautiful extensive gorge Kishi-Kaindy, on abrupt slopes it is possible to see vegetation. The way back will seem absolutely to another.
If you travel on a horse, your impression will be a little bit other, same good. A lunch-boxes. Returning to horses to hotel "Asel". Transfer to settlement Zhabagly.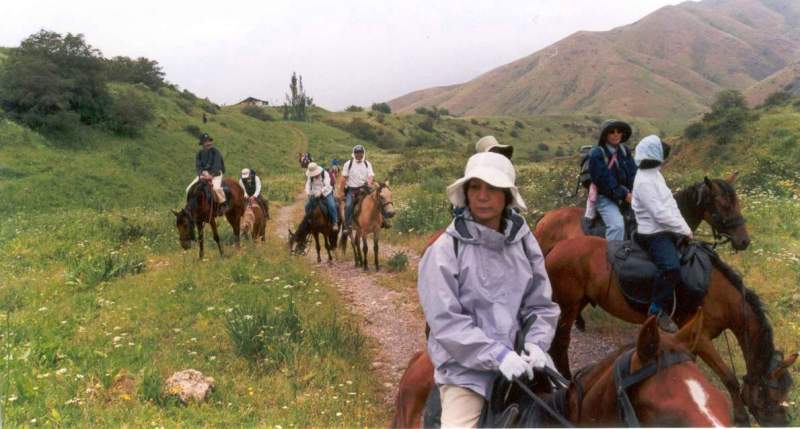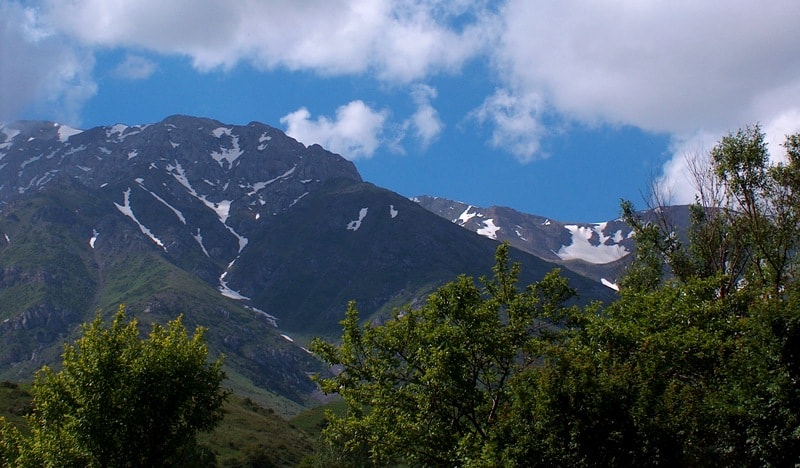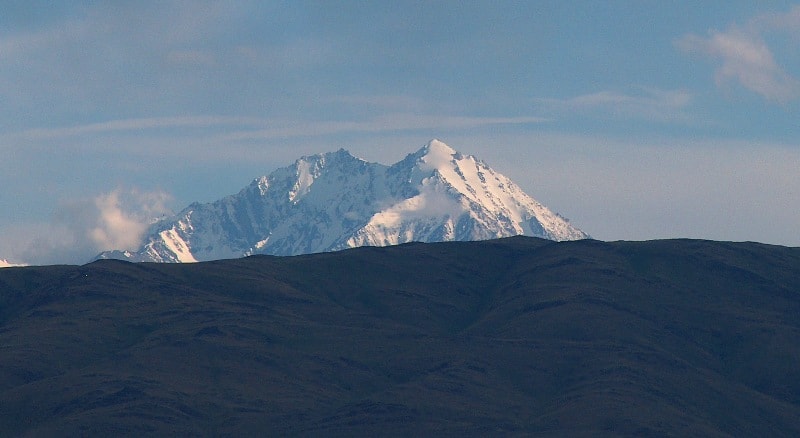 Note:
The author proogram is Alexander Petrov. Copying and introduction - only from the sanction of the author - petrovsra@mail.ru The material for excursion is given by Evgeniy Belousov. http://www.aksuinn.com
Alexander Petrov
photos.