Hiking in Canyon Aksu.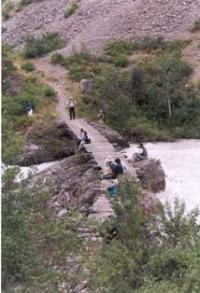 Travel on natural places sights of reserve Aksu-Zhabagly.
"Books are the plane, and the train, and the road. They are the destination, and the journey. They are home" 
Anna Quindlen,
The short description of a route of excursion in a canyon of the river Aksu in mountains Talas of Ala-Tau:
Settlement Zhabagly - settlement Kumisbastau - settlement Eltay - pass Irsu - settlement Irsu (Raevka) - cordon Aksu - canyon Aksu - settlement Zhabagly.
Distance of route: 92 km.
Season: from April 1th till September, 30th.
 Best time for excursion: April - August.
Advanced reservation: for 48 hours.
Duration of the tour: 1 day.
The detailed program of an excursion trip in reserve Aksu-Zhabagly: 
Last minute tour in Kazakhstan.
Reserve Aksu-Zhabagly, trip to canyon Aksu (46 km).
The first excursion in reserve Aksu-Zhabagly. Transfer: settlement Zhabagly - settlement Eltai - settlement Iirsu - canyon Aksu (1620 meters above sea level around hunter cordon) (25 km). Descent in canyon to the river Aksu borrows 30 - 40 minutes. Walk in vicinities of canyon, here we observe flora of canyon Aksu. Lunch in canyon. Rise from canyon borrows from 0,40 1 hours. Canyon of the river Aksu beautiful and picturesque corner of the nature of reserve.
Walking tour on a track northern a slope of a canyon (the right coast, a southern exposition) from cordon Aksu up to the bridge on the river Aksu. Walk passes through thrickets of the Skeleton Caucasian and juniper a light forest. On a steep rock of a slope of a southern exposition it is possible to observe a colony of rocky swallows. The area is most interesting to supervision over birds of prey: a golden eagle, (Circaetus) serpent eagle, Circaetus, an eagle-dwarf, (Buteo rufinus) long-legged buzzard, (Neophron) neophron, griffon, the bearded man, kestrel, (Falco cherrug) saker falcon, etc. It is possible to meet mountain goats and a bear.
Canyon of the river Aksu one of deep in Eurasia, its depth from 300 up to 500 meters, distance between steep edges - about 1 kilometer. Walls of a canyon are combined by conglomerates from adjournment of ancient lake. Several ledges they go down to a channel of the rough and deep river which water always very cold, the river is formed as a result of thawing glaciers Talas Ala-Tau and Ugam ridge.
During a high water (June - July) the river of turquoise color, she bears particles of breeds washed away in riverheads. By August water becomes absolutely transparent, she tasty and cold. Along a channel of the river a narrow tape lasts flood-plain forest, a wood consisting of birches, willows and poplars. On the twisting track winding on ledges of a southern slope, it is possible to go down to the river, to admire its rough current, to have a rest in a shadow of trees.
Steep walls and terraces of a southern slope of a canyon, trees Juniperus seravschanica, groves Celtis caucasica, Padellus mahaleb and bushes are from here especially well visible. After rest rise will not seem heavy, having overcome it, you with pleasure and pride of still time can admire a grandiose panorama of a canyon. On northern slope of a canyon the track rises under flat a wood formed Malus sieversii. Its fruits are tasty, a variety of their forms infinitely, it clade for selectors. Behind a canyon the way lays in a southern part of reserve, in Chuulduk.
The canyon is beautiful at any time year, he is opened for visiting from April till November. In the spring on road to a canyon it is possible to meet many interesting plants, in a canyon you are expected Tulipa Greigii and Tulipa kaufmanniana, with a fields blossoming Eremurus lactiflorus, an original onion and other grassy plants, aroma and beauty of blossoming bushes.
Later, when plants on a southern slope dry, coniferous aroma amplifies, and by the autumn special charm to landscapes is given with contrast between turning yellow plants and is bright-dark blue shadows in depth of a canyon. You will like at this time year bright fruits Ephedra equisetina, dark blue шишки and berries Junipers, and all other fructifying plants.
At any time year you can observe above a canyon of soaring predators.
On edge of a canyon among stones meets dark blue Rock Thrush, Wheatears and others. You can not go down in a canyon, make walk on its edge, and the canyon will open in a new interesting foreshortening. It is possible about half of way along a canyon to pass on a track which goes down on the top terrace of a canyon, and then rises on its top edge.
If you the life of local population interests, on a return way it is possible to stop in small settlement Eltay with a patriarchal way of life. It is possible to talk to its affable inhabitants, to photograph household stages. It is possible to participate in some events of their life, for example, in manufacturing felted cloth. As fine scenery, during all trip on horizon snow tops Ugam ridge of a ridge and Talass Ala-Tau will be visible.
It is possible to pass about 5 km on an average terrace upwards on a canyon and to return downwards on the top edge, or on the contrary. Returning in settlement Zhabagly.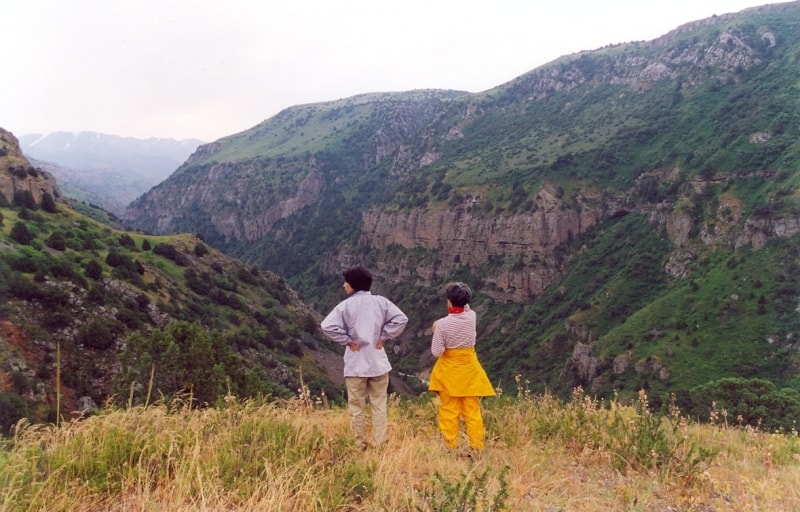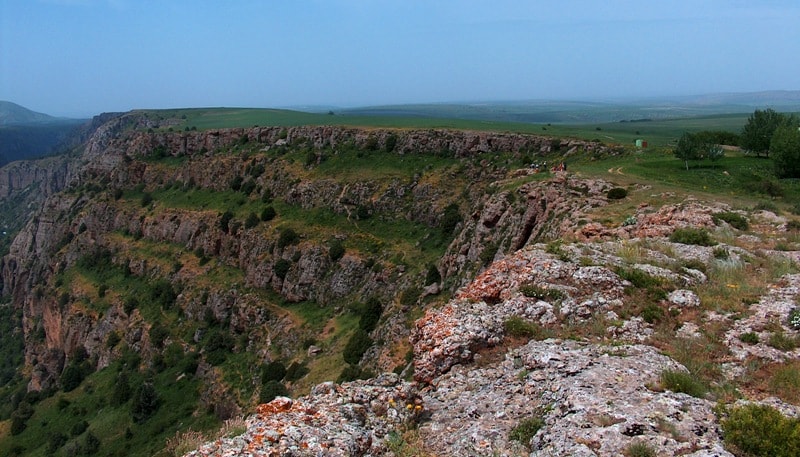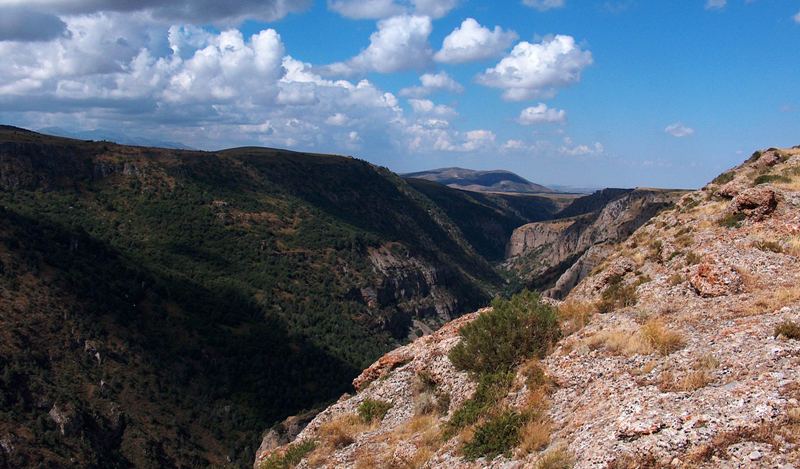 Note:
The author program is Alexander Petrov. Copying and introduction - only from the sanction of the author - petrovsra@mail.ru The material for excursion is given by Evgeniy Belousov. http://www.aksuinn.com
Alexander Petrov
photos.