Geology of Ustyrt reserve.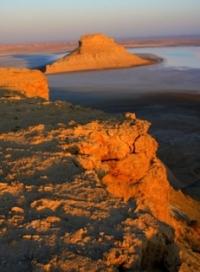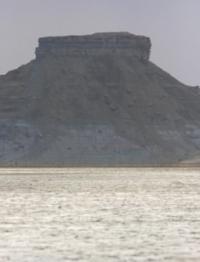 Middle East travels Kazakhstan.
"All nature wears one universal grin" 
Henry Fielding.
Kazakhstan wonders tours and travel.
The plateau Ustyurt consists from carbonate sea breeds Neogene and rocks and create an almost impassable labyrinth. The territory of reserve Ustyrt includes a southern part Western cliffs Ustyurt, a narrow strip of a plateau adjoining them Ustyurt, east part of hollow Karynzharyk - Kenderli saline land and fragments of sandy file Karynzharyk, gradually decreases from the West on the east and from the center to the north and the south.
The relief of a plateau is characterized as wavy and billowy-ridge plain with low ridge, sloping surfaces, hollows and hollows. On a plateau various forms of a relief with dry valleys, takyrs are widely developed.
The plateau Ustyurt and Mangyshlak are karstic provinces of plain Turan. Here there are various forms of a karst: craters, large failures, wells, caves, hollows and downturn. The plateau Ustyurt is combined by the tertiary adjournment laying on the paleozoic base.
The Most ancient breeds on Ustyurt, are greenish and reddish clay palaeogene. Above them there lie sandstones, clay with plaster. The border of a plateau is presented with breakages - having twisting outlines.
Deep gorges, with difference of absolute heights from - 65 up to + 340 meters above sea level, formed by sea adjournment of various geological epoch, the southern site Western чинка Ustyurt, differs an abundance of grottoes, caves, various niches.
The set of color rocks, canyons and natural boundaries creates here a special, freakish and fantastic labyrinth. On slopes of breakages the set of the springs used by animals as watering places is located.
The southern site of the Western breakage of Ustyurt in territory of reserve is characterized by a wide circulation of landslips. On the Western breakage including in area of reserve, there are outputs of ancient breeds - adjournment cretaceous and Jurassic age.
From minerals, characteristic for region of an arrangement of reserve Ustyurt, it is possible to name oil and gas, a small deposit of coal on mountain Karamaya, from building materials - significant deposits of Sarmatian limestones (shell rock), plaster, color loam, chalk.
From a total area of reserve of 223 342 hectares, on a share of breakages 59 060 hectares, saline soil Kenderli-saline land 54 000 hectares are necessary borrows. 
Ground Ustyurt of reserve. In territory of reserve Ustyurt are1 brown and gray-brown deserted ground. Hollow Karynzharyk is difficult for considering as a uniform file as he breaks up to a number of the separate sites divided takyrs, saline soils, clay spaces, the rests of ancient breeds.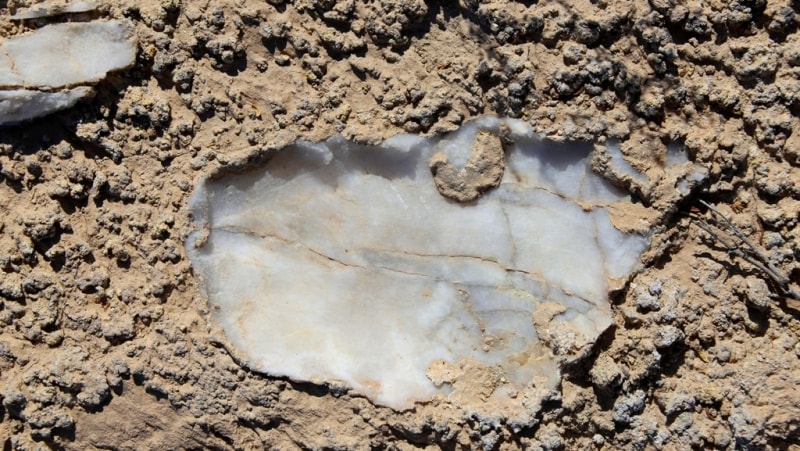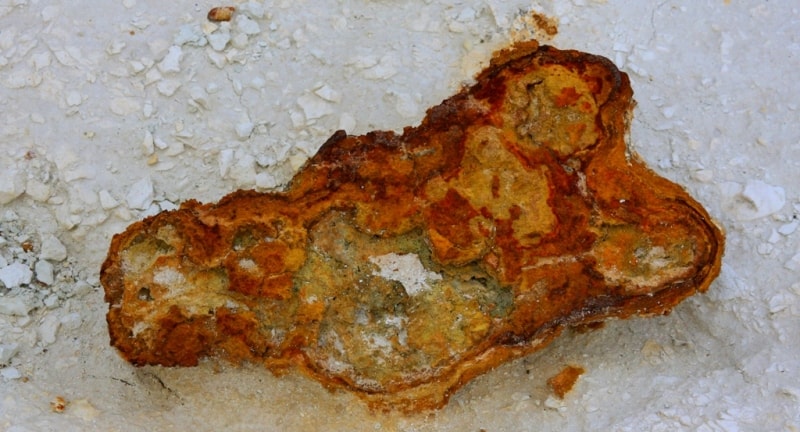 Authority:
Plahov Konstantin. Reserves of Central Asia and Kazakhstan (under R.V.Jashchenko general edition. Protected natural territories of Central Asia and Kazakhstan, release 1 - Tetis, Almaty, 2006.352 p.
Photos
Alexander Petrov.