History skating rink of Medeu.
Trip on Medeu skating rink.
«Memory is the treasure house of the mind wherein the monuments thereof are kept and preserved»
Thomas Fuller.
Weekend tours gorge Small Almaty.
Medeu, a sports complex, in the mountain gorge of the river of the same name of Small Almatinka, is located at the height of 1691,2 meters above sea level. it is constructed in 1969 - 1972 years. Authors: architects V. Z. Katsev, A.S. Kaynarbayev, I. G. Kosogova, the main designers S. B. Matveev, M. V. Plakhotnikov, Sh. M. Chelidze, E. L. engineers Liechtenstein, V. V. Vdovichenko and other experts who were taking part in creation of architecture and construction of a skating rink.
For creation of the mountains sports Medeu complex the group of authors of designers and builders in 1975 is conferred the State award USSR. The mountain Medeo complex of winter sports, is located in the valley of Medeo, in 18 kilometers from Almaty.
In 1949 the place for construction of a skating rink was chosen. For the first time the skating rink began to function in February, 1951, the country first high-mountain skating rink, work which depended on low air temperatures (2 - 2,5 months in a year).
Clean mountain air, the sun, water without salts and other impurity, necessary during ice creation, provided to fast walkers only good results. The skating rink, was open on February 4, 1951 and on February 5 skaters set the first record and further, all records of the USSR and Kazakhstan were updated.
The reconstructed skating rink opened in 1972 on the place of a skating rink with natural ice which functioned since February in 1951. The area of the ice field of 10,5 thousand square meters, length of racetracks of 400 meters, width of 15 meters, allows to hold speed skating, bandy, figure skating competitions on a skating rink.
The multilayered field 2,3 meters thick consists of metals of 20 names. The reinforced concrete plate in which 170 kilometers of pipes with a refrigerator are laid finishes it. Power of refrigeration units is able "to hold" ice of 8 months in a year, and skating paths - all the year round.
For lighting of the ice arena on 8 masts 1600 searchlights are established. The soft climate of the natural boundary of Medeu, optimum level of solar radiation, the lowered atmospheric pressure, calm, clear glacial water of the river small Almaatinka provide high quality of ice.
Medeo won big sports reputation and world calling. On Medeo 112 records of the world on speed skating are set. Stands of stadium contain 10 500 places. Above Medeo stadium behind Prime Minister of Medeo hotel which was in this place there is a Kazakh Aul restaurant at the height of 1700 meters above sea level.
The sports Medeu complex is a monument of architecture of republican value since 1978. Is in municipal city property of Almaty since 2000. The stadium is called in honor of Medeu Pusyrmanov (1850 - 1908 years), the owner of pasturable grounds in the gorge Small Almatinka of Zailiysky Ala-Tau.
Nearly 20 years the skating rink was world records on speed skating. Already at the first competitions held here, in February, 1951, two world and six all-Union records were established. In total on an old skating rink 47 world records are registered.
However for further development of speed skating the new skating rink with artificial ice was necessary. After creation of a reliable "Selezashchita" dam construction of a new skating complex was developed. Its project was developed by specialists of "Alma-Ata giprogor" institute.
The project provided creation of optimum conditions for trainings and competitions of high-class athletes, and also a possibility of use of a skating rink for mass rest of Alma-Ata peoples and guests of the capital of Kazakhstan.
Construction of a complex was carried out in two years, and its opening took place on December 28, 1972. Stands of ice stadium accommodation more than 10 000 viewers. Under stands clothes on 2 500 places, the buffet, hotel, sports and lecture halls with a film projector, policlinic, a sauna, rooms for judges, journalists, etc. are placed.
From the main entrance and northern gate the ice arena has a many-tier ramp and a ladder of red granite, in the form of mountain rocks. Are executed over North side of the arena, from stadium the indicating panel of 260 square meters, from outer side over an entrance the huge relief "Skaters" which was created by artists Ya. Nimets and V. Konstantinov hangs.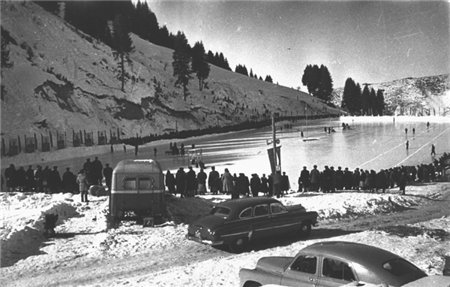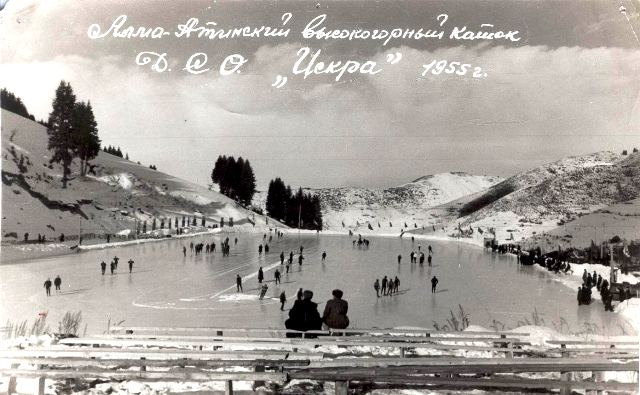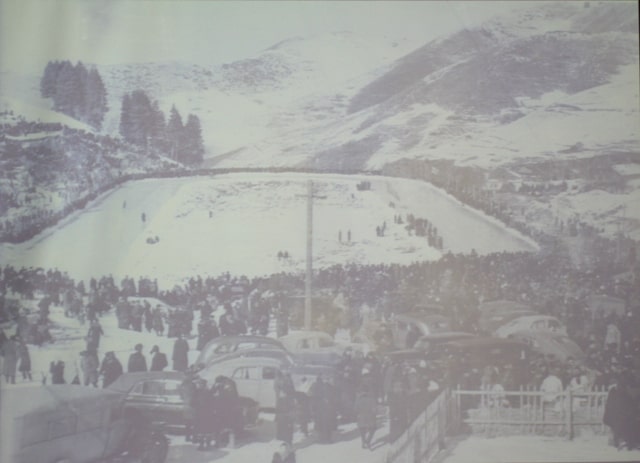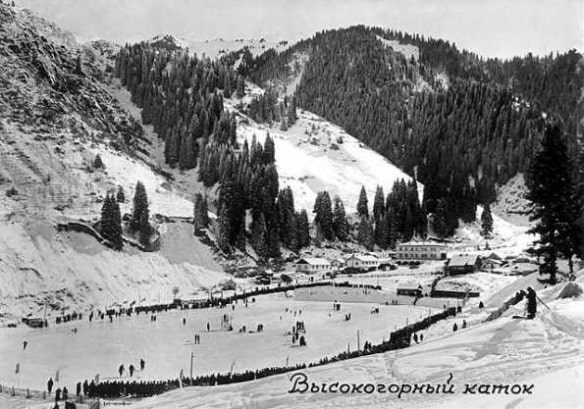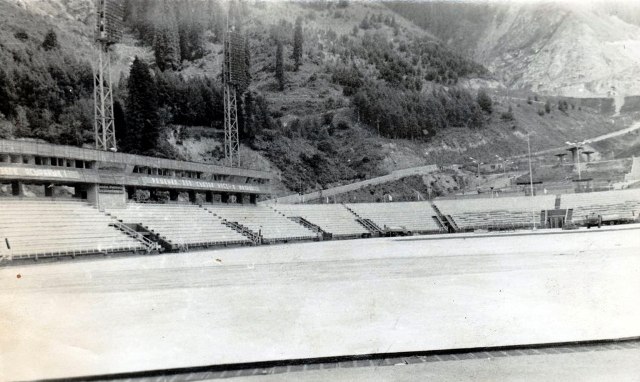 Authority:
Short encyclopedia Kazakh SSR, volume 2 "Nature", Alma-Ata, 1990. Etsiklopediya Alma-Ata, 1983. Alma-Ata. Editor-in-chief M. K. Kozybayev. Guide Alma-Ata, 1990, Planeta publishing house, Moscow, P. Proskurin.