Kaptarhon a Minaret in Khiva.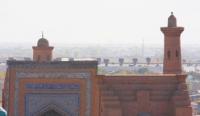 Places of interest of monuments of history of Khiva.
"The capital of this villa is currently Khivak. The reason for its name is already given above. A city with a very good climate can be eaten ten times a day and it will not cause any harm. There are mazars of some saints. Among them are the mazar poles of the poles, the best of those who follow the correct path of Hasap Ata, known by the name of Kozli Baba, may Allah's mercy be on him! It is located northwest of the city, at a distance of over three thousand steps from it. To the west of this mazar, at a distance of four thousand steps from the city, lie sixty respected persons, whose names include the word "Muhammad". They were murids of the hazret of Sheikh Najm al-Din Kubra and closed their eyes to this world three years before the death of the hazret. Since they were approximate to hazret, they were all known under the nickname Hasan. Now, in the same place, the father of this lowest Koshmuhammad-sufi also rests, may Allah bless his soul! This area is fertile, but with one drawback - it is sandy and the water is delivered there in waterskins and buckets in a thousand steps"
Historian Hudaiberdi ibn Koshmuhammad Khivaki "Dil Gara'ib", "Heart of Rarities".
Travel options in Khiva.
Minaret Kaptarhon of construction of XIX century in Khiva, is located in territory of a quarter mosque with the same name. In the top part there are four apertures, whence muezzin «azanu». The minaret is constructed from burnt a brick and decorated by a figured bricklaying, only the eaves has a strip from a blue tile.
The sizes of minaret Kaptarhon height - 8 meters, diameter of the basis - 2 meters.
Authority:
http://www.pagetour.org