Lake Karakol in Buzunbai gorge.
Go sightseeing nature Almaty.
"I am never as busy as during my leisure hours"
Mark Tullius Cicero.
Traveler attraction Almaty region.
The fresh, flowing lake Karakol is located at an altitude of 3102 meters above sea level, located in the upper reaches of the Buzunbay gorge on the northern slope of the Terskey Alatau ridge between the Kopyl mountains in the west and the northern spurs of the Meridional ridge in the east in the Narynkol district of the Almaty region.
The length of the lake is 1704 meters, the greatest width in the northern part is 456 meters. The perimeter of Lake Karakol is 4538 meters, the area is 737522 square meters. Judging by the talus slope located on the western side of the gorge, just opposite the ancient, natural dam, it can be assumed that a landslide occurred, most likely as a result of an earthquake from this slope.
The nature of the location and direction of the landslide indicates the direction of its movement. As a result, a giant dam was formed, blocking the Buzunbai River. The rocky-clay materials of the collapse, sediment and silt over time plugged the body of the natural dam, and thus formed the lake that we see today.
Judging by the underlying surface of the natural dam, the landslide that formed Lake Karakol was confined to intense earthquakes that occurred on July 1 (13), 1889 (Chilikskoye) or December 22, 1910 (January 4, 1911) (Keminskoye).
By car, you can drive just above the last parking lot of the shepherd, whose house is sheathed with profile tin, about 150-200 meters here you can set up tents. The length of the walk to the lake from the tents is 2.5 kilometers.
Geographic coordinates of Karakol Lake: N42 ° 31'15.16 "E79 ° 55'08.64"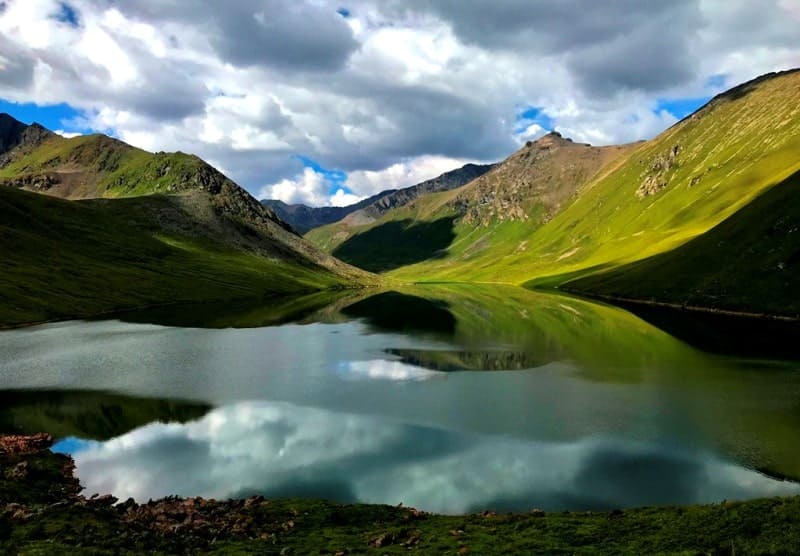 Authority and photos by
Alexander Petrov.