Lake Maybalyk in Borovoe park.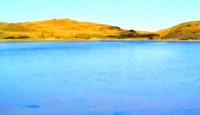 Trip on lake Maybalyk in Borovoe natural park.
«Nature does nothing without purpose or uselessly»
Aristotle.
Tours across lakes of Akmola region.
In the territory of the Shchuchinsk-Borovoe zone there are 14 lakes with area a surface of the water about 1 square kilometer each and big quantity of smaller lakes. These lakes are well visible from Sinykha mountain Pike, Pine-forest, Big and Small Chebachye, Kotyrkol.
From a crest of Kokshetau also the small lakes Light, Karasye, Mountain, Swan are visible. The rivers of a poorly are also presented by the small rivers, streams and temporary rivers. The lake Maybalyk, is located between lakes Pine-forest and Small Chebachye in 21 km to the North from the city of Shchuchinsk.
In a west part of the lake there are two gulfs (southwest and North western). Lake surface of the water open. In small gulfs of the western and southwest parts small coastal thickets of reed meet. Coast of the lake abrupt, honor throughout high.
Authority:
Kazakhstan guide. Edition of the ministry of tourism and sport.