Lakes Chukurkul at Khargush pass.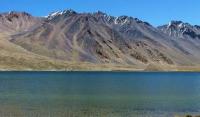 Lakes along Pamir Highway.
"Every journey is like a dangerous disease"
Ernst Heine.
Lakes along Pamir Highway.
In the Murgab district of Southeast Tajikistan, there are two lakes Chukurkul. Chukurkul Salt Zero with geographical coordinates: N37 ° 32'44,42 "E73 ° 06'36,70"
It is located in the intermountain basin, at an altitude of 3951.6 meters above sea level on the northern slope of the South Alichur Range. Lake Chukurkul, is located 10 kilometers north of the Khargush pass with a height of 4344 meters above sea level.
The northern part of the lake is in close proximity to the Pamir tract. The main food of the lake is provided by a small stream flowing down from the southeast slope. The length of the lake is 1503 meters, the width in the southern part is 666 meters. The coastline is 3617 meters long.
Authority:
Alexander Petrov.