Mausoleum of Nurinjan Baba.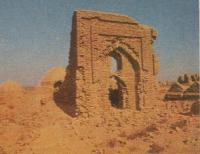 Best sights of Karakalpakstan in 2023.
"I'm afraid that we will not get into this world again,
And there we won't find our friends behind the coffin.
Let's feast this moment while we are alive.
Maybe a moment will pass - we will all go away forever "
Omar Khayyam.
Ancient mausoleums of Karakalpakstan.
Nurinjan baba mausoleum is located in the large ancient cemetery of Nurymzhanbaba, in the southern part of its natural hill 102.5 meters above sea level, in the eastern part with the Guldursun sand, 9.9 kilometers south and slightly east of the village of Ellikala, 6 kilometers to the south - west from the village of Okaltyn in the Ellikala region of the Republic of Karakalpakstan.
The Narynjan baba complex, dating back to the Golden Horde period in the Southern Aral Sea region, (first half of the XIV century), is one of the most revered holy places. It is a multi-chamber group of buildings, the initial core of which is the mausoleum. In the center of the room is the tombstone of the saint.
Tombstones with inscriptions have survived from the monument, which are now kept in the Karakalpak State Museum of Local Lore in Nukus. In the 13th century, the mausoleum was discovered by the Muslim leader Mukhtar Vali, who built a new building for the mausoleum.
Later, a room for pilgrims was completed. This place was often used for performing Sufi rituals (dhikr). In the early 90s of the XX century, the monument was rebuilt again, and the tombstone was faced with marble.
Geographic coordinates of Narinjan baba mausoleum: N41 ° 44'54.14 "E60 ° 59'06.29"
Authority and photos:
http://karakalpakstan.travel/narindjan-baba/?lang=ru