The mount of Belukha.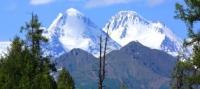 Climbing tours to mount Belukha.
"Climb the mountains and get their good tidings. Nature's peace will flow into you as sunshine flows into trees. The winds will blow their own freshness into you, and the storms their energy, while cares will drop away from you like the leaves of Autumn" 
John Muir. «The Mountains of California».
Belukha peak Climbing, Hiking & Mountaineering.
Belukha Mountain (4506 m), the highest peak in Altai and Siberia, is located in the north-east of East Kazakhstan on the border of Kazakhstan and Russia. Slopes of its two-head top are covered with eternal snow and glaciers (Berelsky, Katunsky etc.) on the area of around 70 kilometers square.
Belukha is a three-peaked mountain massif that rises along the border of Russia and Kazakhstan, just a few dozen miles north of the point where this border meets with the border of China. There are several small glaciers on the mountain, including Belukha Glacier.
Of the two peaks, the eastern peak (4,506 m, 14,784 ft.) is higher than the western peak (4,440 m, 14,567 ft.). Belukha was first climbed in 1914 by the Tronov brothers. Most ascents of the eastern peak follow the same southern route as that taken in the first ascent.
Though the Altai is lower in elevation than other Asian mountain groups, it is very remote, and much time and planning are required for its approach. A team of scientists, traveled to this remote glacier in the summer of 2001 to assess the feasibility of studying the glacier and extracting ice cores at the site.
A Swiss-Russian team also worked on the glacier in 2001. Research was carried out from 2001 to 2003; glaciological observations were made, and both shallow cores and cores to bedrock were extracted and analyzed (Olivier and others, 2003; Fujita and others, 2004).
Based on tritium analysis to date, the deeper cores may contain as much as 3 – 5,000 years of climatic and environmental records Belukha represents an interesting site for alpinism and mountaineering. At the same time it is a holy mountain according to many legends.
Buddhists believed that here was the legendary transcendental country of gods, Shambala, and from here great Buddha, Gautama came to India. According to other legends, the energy bridge connects Belukha with Everest.
Here is the "hub of the universe" that also has energy connection with the Space; that provides people with energy and health. People who had once seen Belukha would always remember its divine shining two-head top. Belukha is the symbol of Altai.
Authority:
Books: "Nature of Zailiysky Ala-Tau", M. Zh. Zhandayev, prod. Kazakhstan, Alma-Ata, 1978 "Across Northern Tien Shan", V. N. Vukolov, Moscow, Profizdat, 1991. Pozdeev-Bashta A. Mountain tracks of Almaty. - 2nd prod. - Almaty, 1998. Pospelov E. M. To the tourist about place names. - M, 1988. A. P. humpbacks. Mountains of Central Asia. Explanatory dictionary of place names and terms". - Almaty, 2006. Murzayev E. M. Geography in names. - M, 1982.
Photos by
Alexander Petrov.