Mountains Zheltau.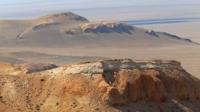 Go on a journey Kazakhstan.
"Let's not ... be too deluded by our victories over nature. She takes revenge on us for every such victory."
Engels Friedrich.
Day trip Kazakhstan.
The Zheltau mountains, a typical fragment of the Ustyurt plateau, are located 133 kilometers southeast of the regional center - Kulsary, 122 kilometers east and slightly north of the Karakum sands, 20.4 kilometers east and slightly south of the Sholkara mountain range, 94 kilometers to the east of the Borankul village in the Zhylyio district in the southeast of the Atyrau region.
The Zheltau mountains stretch in the meridional direction for 33 kilometers, the greatest width of the eastern part of the mountains is 10 kilometers, the central part is 8.6 kilometers, and the eastern part is 6.4 kilometers.
The dominant unnamed mark is located in the central part of the plateau, 221.5 meters above sea level. The height of the easternmost cliff, Zheltau, is 212.7 meters above sea level. Zheltau is the westernmost distribution of the Northern cliff of the Ustyurt Plateau, which in turn bears the name of Donyztau.
46 kilometers to the east of Zheltau is the Donyztau salt marsh tract, the Kolenkely mountains adjoin from the southwest, being the western border of the Donyztau cliff. The mountains are located at the junction of the Atyrau, Aktobe and Mangistau regions, where part of the Atyrau region has an elongated appendicitis from the south-east to the north-west.
The territory of the mountains is one of the most inaccessible, least explored, the nearest settlement is located 94 kilometers in the west - the village of Borankul (formerly Oporny). The relief of the mountains is represented by elements of the mountain landscape with high cliffs, rocky outcrops, outliers, deep and long ravines, and gullies.
The region is rich in paleontological finds - oyster shells, teeth of Paleogene sharks, vertebrae of bony fish that lived in the Tethys Ocean about 40 million years ago. On the slopes of the Chinks, there are a large number of necropolises and settlements that were confined to water sources.
This area is recommended for the organization of a natural park.
Geographic coordinates of the Zheltau mountains: N46 ° 31'02.73 "E55 ° 36'54.68"
Authority and Photos:
Alexander Petrov.