River Aksu. Dzungarsky Ala-Tau.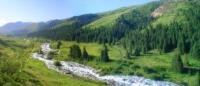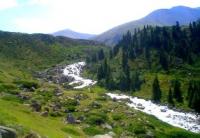 Tours to Dzhungarsky Ala-Tau.
"Nature is an infinite sphere whose center is everywhere"
Ralph Waldo Emerson.
Ski touring in Kazakhstan.
The river Aksu flows to Aksuskom and Zhetysusky areas of Almaty region. River length Aksu of 316 kilometers, the area of a reservoir is 5040 kilometers square. The river begins from ridge glaciers the Dzungarsky Ala-Tau flows into Lake Balkhash.
In upper courses of the valley of the river Aksu on the southern slope of the ridge the Dzungarsky Ala-Tau many thin lakes are located, from some there is a beginning the river Aksu. The river Aksu has 132 inflows with a total length of 213 kilometers.
River food snow and glacial. An average annual consumption of water at the settlement of Dzhansugurov of 11,7 cubic meters a second. Water of the river is used for water supply and irrigation. At the settlement of Zhansugurov on the river the small hydroelectric power station developing the electric power for local villages is constructed.
On a left bank of the river Aqsa the settlement of Zhansugurov (Dzhansugurov) which is the administrative center of Aksusky district of Almaty region of the Republic of Kazakhstan is located. The nearest railway station is Mulaly. Initially the settlement was called Abakumovka, and later was renamed into honor of the Kazakh writer Ilyas Dzhansugurov.
About 6650 people live in the areas Zhansugurov.
Authority:
"Zhetysu is the Land of  tourism". A Tourist Guide-book. Almaty.  2003. 68 p. and the material for this page is taken from the printed edition.