Sights of the Ashen grove.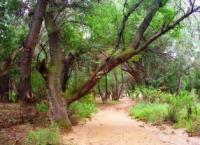 Hop-off bus tour in Almaty.
"Nature is wise. You can learn everywhere and from everything"
Leonardo da Vinci.
Natural sights of Kazakhstan.
Charyn ash-tree dacha is situated in Charyn river, in the territory of Uigur timber industry in Alma-Ata oblast. The total area is 4885 hectares. Here are surviving plants: ash-trees, willows, poplars. On the territory of the park there is one of the most picturesque natural tracts - Canyon of Charyn River, the left tributary of Ili River flowing in the east of the oblast in 193 km from Almaty City.
This is an amazing site! The canyon reminds of the greatest Colorado Canyon in the USA but only in miniature. It is extremely interesting, picturesque and diverse in shapes, which look like fantastic towers of some fairy-tale castle.
That is why the canyon has another name – Valley of Castles. On the slopes you can find numerous remains of the excavated fauna dated as far as the lower carbon era (300 million years ago). Relic ash-tree and Asiatic-poplar forests are of great interest.
Charyn ash-tree forest occupies the area of 4855 ha. It contains mostly Sogdian ash-trees, the forest massif of which is the only in our country. Here is also the tourist centre "Ash-Tree Dacha".
Authority:
Nature sanctuaries of Kazakhstan. (remarkable landscapes and their protection). A. V. Chigarkin, Alma-Ata, Kaynar publishing house, 1980. "Nature of Zailiysky Ala-Tau", M. Zh. Zhayedayev, prod. Kazakhstan, Alma-Ata, 1978 "Across Northern Tien Shan", V. N. Vukolov, Moscow, Profizdat, 1991.
Photos
Alexander Petrov.