Charyn river.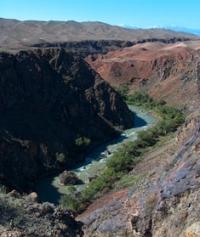 Trip to canyons on the river Charyn.
"Nature does nothing in vain" 
Aristotle.
Ornithological tours to Charyn Canyon.
The river Charyn is the left inflow of the river Ili, Almaty area proceeding on the east, in 193 kilometers from Almaty. In headwaters Charyn carries name Shalkadysu, on the average Kegen and only from turn Kegen on the north is called Charyn.
Charyn accepts set of inflows from northern slope of ridge Kungey Ala-Tau and, the deep river, cuts east parts Zhalanash of a hollow and mountains Toruaigyr a grandiose canyon. Then accepts unique large inflow Temerlik (Iron) and, a little having deviated on northeast, runs into the river Ili. T
he general length Charyn of 255 kilometers, the area of a reservoir of 8000 kilometers square. It is the deep rough river with the mid-annual charge 33, 2 meters cubic in a second. Charyn eats atmospheric precipitation, therefore its water mode differs from the glacial rivers a little.
The basic charges of the river fall to the period of the maximal loss of atmospheric precipitation, May - June, then almost at all glacial rivers - for July and August. Valley Charyn in area of mountains Kuluktau represents a canyon depth of 400 meters.
Below, in area of friable adjournment Zhalanash of a hollow, the river gets trapezium the form, reaching width up to three kilometers, depth of 300 meters. Here she is called Aktogay (the White wood). In east part of ridge Toruaigyr she again forms a canyon - Kartogai (the Sepulchral wood).
On its slopes are naked Pliocene adjournment with complex forms of aeration in the form of eaves, columns, niches and so on. The valley here differs exclusive appeal. In the bottom current the river becomes flat and wide, this place is called Sartogai (The Yellow wood).
Authority:
«Nature Zailiyskiy  Ala-Tau», M.Z.Zhandaev, printed  "Kazakhstan", Alma-Ata, 1978. 
Photos
Alexander Petrov.